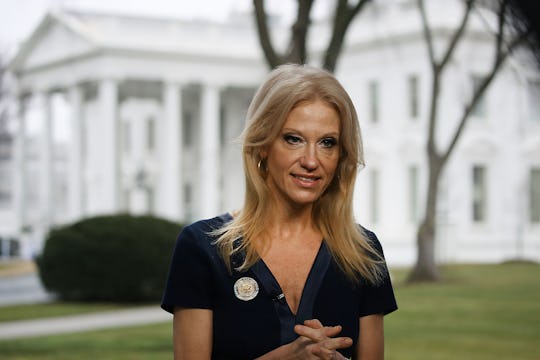 Mark Wilson/Getty Images News/Getty Images
Kellyanne Conway's Alternative Facts Aren't Facts
White House Press Secretary Sean Spicer made headlines yesterday after falsely declaring that "the largest audience to ever witness an inauguration" showed up at the National Mall on Friday for Trump's swearing-in. This would have been a nice kick off to Trump's presidency, if only it were true. Spicer presented the White House press corps with a slew of falsehoods about the inauguration, which were addressed by Kellyanne Conway on Sunday, but during an appearance on Meet the Press, the senior aide to President Trump claimed that Spicer had simply presented "alternative facts" at the first press briefing. The internet obviously exploded over her comments because, you know, alternative facts aren't actually a thing.
Only a few hours after Conway appeared on Meet the Press, the hashtag #alternativefacts was the number one trending topic on Twitter in the United States. People who had heard Conway's defense of Spicer began tweeting out their own "alternative facts," including helpful weight loss tips like eating a cupcakes and tacos for lunch everyday. Some Twitter users even saw the opportunity to use alternative facts to change unfortunate plot elements of movies that have been out for decades. If you can use alternative facts in the White House, then surely you can use them everywhere else?
While tweets about Conway's comment are pretty hilarious, this isn't the first time Trump's team has suggested that facts simply don't matter anymore. Scottie Nell Hughes, a CNN political commenter and surrogate for the Trump campaign, stated that "there's no such thing, unfortunately, anymore of facts" during an appearance on The Diane Rehm Show back in December. According to The Washington Post, Hughes argued that the actual truth no longer matters as much as what people choose to believe.
It seems that the Trump administration is putting this belief to the test. Meet the Press host Chuck Todd on Sunday continually questioned Conway on why the press secretary would "utter a provable falsehood" during his first ever briefing. Conway gave quite a chilling response, telling Todd that "if we're going to keep referring to the press secretary in those types of terms I think we're going to have to rethink our relationship here."
Many journalists and political pundits were baffled both by Spicer's briefing and Conway's justification of his lies. Ari Fleischer, the press secretary under George W. Bush, sent out a tweet explaining exactly what was happening in that press room, "This is called a statement you're told to make by the President. And you know the President is watching."
Fleischer wasn't the only prominent former government employee to join in on the alternative fact tweet spree, either. Former Democratic Congressman Steve Israel took to Twitter, saying that "this isn't a petty attack on the press. It's a calculated attempt to delegitimize any questioning of @realDonaldTrump by a free press." And that's a truly terrifying actual fact.