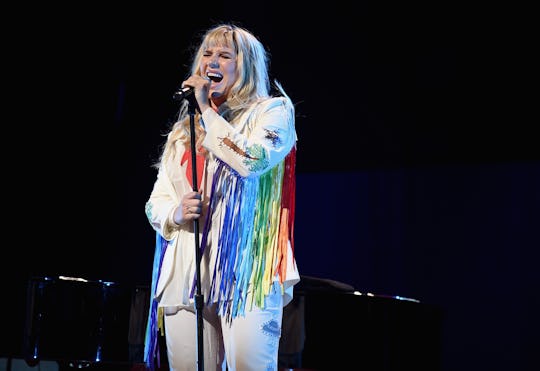 Theo Wargo/Getty Images Entertainment/Getty Images
Kesha's New Music May Be Here Soon, & It's About Time
There is some very good news for Kesha fans this weekend. Sony's announced that Kesha's new music is coming out a lot sooner than expected. In a statement from Buzzfeed, the record company said, "Creating a new album takes time, and everyone's goal is to deliver a high quality album consistent with Kesha's past releases. We hope to share exciting new music with Kesha's fans soon. But it might be best to not get your hopes too high just yet. In a total buzzkill move, Kesha's attorney s attorney, Daniel Petrocelli, told Buzzfeed, "Kesha has been trying for six months to record and release new music. Only in the last month, after our last court hearing, has any progress been made, but it is hardly enough. Kesha still has received no commitments on promotion, songs, or even a release date."
Talk about mixed messages, huh? He added, "We hope things turn around fast. Meanwhile, Kesha intends to continue participating in the creative process in the hopes she can meaningfully return to work."
Over the course of the past months, Kesha's submitted 28 songs to Kemosabe, the label owned by Sony and run by Dr. Luke, the producer at the heart of Kesha's legal battle with the label.
Petrocelli said this August that Kesha's submitted the songs to Sony and that ler legal team "conveyed to Sony Music and the label Kesha's strong desire to release the single and an album as soon as possible." Sony's statement that they expect to have new music "soon" is promising, but the lack of concrete promotional dates and deadlines means they might be taking their time.
Kesha moved to drop her suits against Dr. Luke in August in an effort, according to her, to move on with her career and get new music out into the world. She's been stuck in a legal dumpster fire with Dr. Luke, Kemosabe, and Sony Music since 2014 after alleging that Dr. Luke sexually assaulted and emotionally abused her. Kesha was reportedly told that she couldn't release new music unless she worked with Dr. Luke, which the label claims is just not true. Dr. Luke's attorney Christine Lepera, told BuzzFeed that Kesha dropped her claims "because she has no chance of winning them," not because it was a way to get back to work. Lepera addd in August that, "Kesha never should have brought her false and meritless claims against Dr. Luke in any court," Lepera added.
In any case, it's been a long, hard few years for Kesha and her fans. Let's hope Sony gets some new music on the calendar as soon as possible.