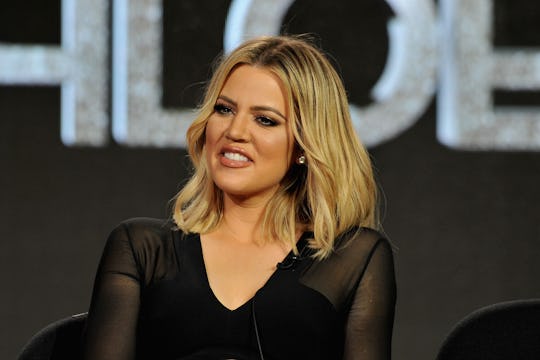 Jerod Harris/Getty Images Entertainment/Getty Images
These Conspiracy Theories About Khloé Kardashian's Pregnancy Will Make You Question Everything
When the rumors began swirling in September that both Khloé Kardashian and Kylie Jenner were pregnant, conspiracy theories started flying left and right. One of the sisters is definitely serving as the surrogate for Kim Kardashian, some speculated. Or, perhaps Kylie is the surrogate for Khloé — who has been open about infertility problems on Keeping Up with the Kardashians. Or maybe, neither sister is actually expecting and it's all just one big stunt for ratings and money. It seems fans and gossip sites have explored every possible angle for the past three months. So now that Khloé has finally come forward and officially confirmed her pregnancy via Instagram, you'd think people would calm the eff down already. However, Khloé Kardashian pregnancy conspiracy theories are still rampant despite her recent announcement.
When Koko dropped the baby news bomb on Wednesday — complete with an adorable bump photo and a touching message on her Instagram account — the internet about lost it. "OMG, It's finally happening! She's going to be mom!" the world collectively shouted. Yes, following three months of intense speculation, Khloé is, for real, expecting her first child with NBA star Tristan Thompson. For one shining moment, everything was right in the KUWTK universe.
Until fans started taking a closer look at the photo. "Wait a minute ... are those rings Khloé is rocking *that* finger?!" many people noticed. Suddenly, the pregnancy announcement transformed into a potential engagement announcement, as well, People reported. And you can bet the conspiracy theories started right back up. However, as ET Online reports, Khloé is not currently engaged or married. "The rumors spread are made up and false," a source tells the publication. "Khloe is in a committed relationship and very much in love, but they are not married." This isn't the first time these rings have sparked engagement rumors, though. Back in May Khloé was spotted with the same diamond rings on her marriage finger while attending the MBCUniversal Upfront event in New York City, ET Online reported. Despite the evidence to the contrary, fans took to Twitter to share their excitement at the possibility of an engagement.
Other fans took note of the fact that the photo in Khloé's pregnancy announcement is suspiciously missing a head — meaning it could be anyone's bump. Maybe she's still not pregnant, after all, and hired a surrogate, some particularly skeptical fans wondered. "So my conspiracy theory is Kylie is Khloe's surrogate — even though she has announced it's just a belly photo," one Twitter user pointed out. Another person wrote, "Conspiracy theory: Kylie Jenner is Khloe Kardashian's surrogate & the insta pic isn't even of Khloe!!"
When will the madness end?! I have a sinking feeling that even after Khloé delivers her baby this coming spring, there will still be people who don't believe some aspect of the child's origins. "Let us see the birth certificate!" some will demand. In all seriousness, though, my question is this: Why does the general public accept nearly every other celebrity pregnancy announcement at face value? "Oh, so-and-so is having a baby. Good for them." End of commentary. But I actually have an answer to that question. They're reality stars on a show filled with drama — real or fabricated. Of course people are going to speculate. Plus, since the family has been so quiet about it all up until now, it's kind of fun to play detective and try to piece together the puzzle ourselves, isn't it?
There are just too many theories to keep up with, I swear. Like the fact that the Kardashian baby boom was masterminded by none other than Kris Jenner, or that it was a ploy to booster ratings, as Mashable reported. Leading to fantastic GIFs like this...
And this ...
Since I'm not really big on conspiracy theories, here's my take on everything that's happened so far: Kim is expecting her own daughter carried by a surrogate that is not a sister, just like she's confirmed. Khloé is pregnant with her own child and isn't currently engaged, again, like what has been confirmed. (Although I could definitely see an engagement happening soon.) As for Kylie? I believe she is pregnant, too — but like her big sister, she's waiting to confirm the news when she's ready to do so. It's decidedly less exciting than the other possibilities floating around there, yes. But contrary to what the Kardashians/Jenners show us on TV, sometimes reality is, well, boring.
Check out Romper's new video series, Romper's Doula Diaries:
Watch full episodes of Romper's Doula Diaries on Facebook Watch.