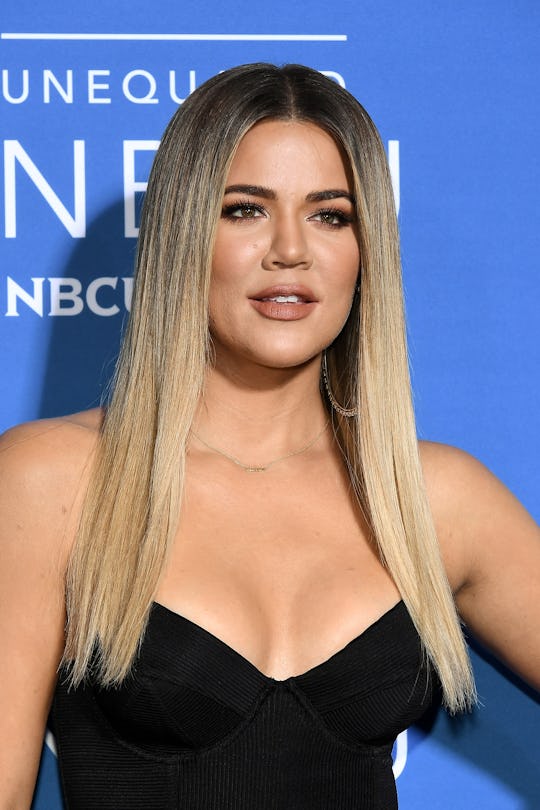 Dia Dipasupil/Getty Images Entertainment/Getty Images
Khloe Kardashian's Latest Pregnancy Update Is Just The Sweetest
Ever since Khloé Kardashian officially confirmed her pregnancy back in December, fans of Keeping Up with the Kardashians have undoubtedly been refreshing the reality star's social media channels to get the latest updates on her journey. (Or maybe that's just me ...) Let's just say her followers probably haven't been too disappointed over the past month or so. That's because since the big announcement, Kardashian has shared plenty of bump photos, as well as details about her pregnancy workouts, cravings, bodily changes, pregnancy insecurities, and more. Most recently, the mom-to-be took to Twitter with a seemingly new development. And Khloé Kardashian's latest pregnancy update is just the sweetest.
As People reported, Kardashian gave her Instagram followers an early Christmas present on Dec. 20 when she posted her first-ever bump photo — officially confirming the pregnancy rumors that had been rampant since September. "My greatest dream realized! We are having a baby!" Koko wrote on Instagram. "I had been waiting and wondering but God had a plan all along. He knew what He was doing. I simply had to trust in Him and be patient. I still at times can't believe that our love created life!" Perhaps equally as squee-worthy, Kardashian revealed a huge pregnancy milestone on Twitter.
"Kick kick kick," Kardashian tweeted Saturday afternoon, amid a field emojis of babies, lips and hands joined together in prayer. "Exciting." Clearly, the first-time expecting mama is feeling those first little sensations of movement from her little one. And guys, fans are so freaking excited for her.
"I can't wait for you to become the amazing mother that we all know you will be," one person tweeted. "I'm so excited for you my love!!! You deserve all the happiness in the world," another Twitter user responded. "OMG WAIT UNTIL you start feeling the little hiccups!!! So cute!!" yet another Twitter follower chimed in.
Most women first start feeling fetal movement between 14 and 26 weeks gestation, according to WhatToExpect.com. Although these movements may only feeling like tiny "flutters" at first, they will gradually become stronger as the pregnancy progress. (And others might even be able to feel or even see the kicks in the third trimester!) As for Kardashian, apparently today wasn't technically the first time she's felt movement from within her growing belly. "I have felt them before but now it's way more frequent and strong," the reality star replied to a follower's question.
In fact, if you take a closer look at the Twitter replies, you can find out even more details about Kardashian's active baby. "At first it's an interesting feeling," Koko responded to another follower's comment. "You're not really sure what you're feeling. At least I wasn't."
Yet another Twitter user commented, "That's the best feeling ever. Wait until baby starts constantly moving making weird shapes out of your belly." Kardashian responded with, "Oh my goodness I swear that was happening last night LOL it's strange but in a beautiful way."
If you remember, Kardashian revealed she was nearly six months along in her pregnancy on Christmas day, reported E! Online. And today, Kardashian confirmed via Twitter that her due date is in April. So it won't be too much longer until another Kardashian baby is welcomed to the world. The countdown is on!
Sigh. I remember exactly how magical it felt when I was pregnant with my first baby and could finally distinguish between baby movements and inner gas rumblings. It was such an amazing sensation. And since I knew what to watch out for (and because I have such a small frame,) I was able to feel those tiny kicks a little bit earlier with each subsequent pregnancy. For the record, I agree with the Twitter user who posted about fetal hiccups; internal hiccuping is by far once of the coolest sensations. (I know it brought a smile to my face every single time.) Enjoy these sweet movements while you can, Khloé — because before you know it, those stronger kicks, elbow jabs, and punches could be getting a tad more uncomfortable.
Check out Romper's new video series, Romper's Doula Diaries:
Watch full episodes of Romper's Doula Diaries on Facebook Watch.