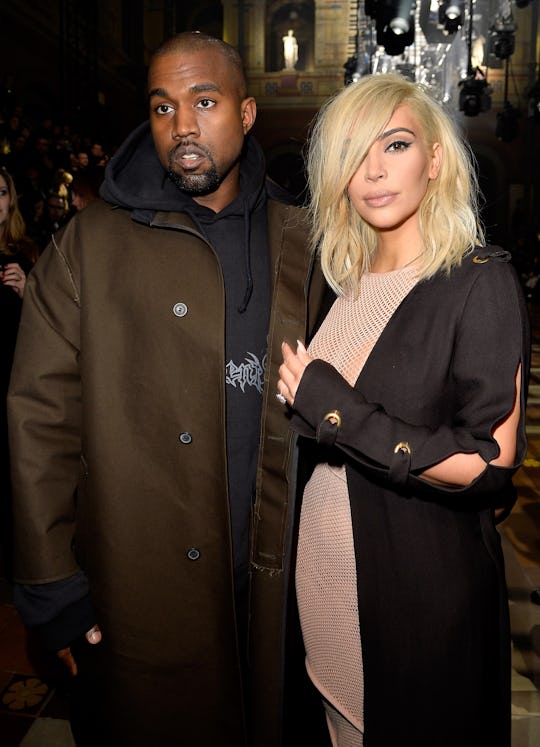 Pascal Le Segretain/Getty Images Entertainment/Getty Images
Kim Kardashian Has Set The Record Straight About Those Baby No. 4 Rumors
While there are definitely perks to being rich and famous, it seems as if female celebrities are endlessly facing questions about baby rumors. Wearing an oversized dress? Pregnant. Suspiciously clutching a handbag over her mid-section? Obviously, she's concealing a bump. Is that a food baby or a baby-baby? Bump alert! Clearly, being in the spotlight isn't all that it's cracked up to be when the public is always scrutinizing your body and analyzing any potential signs of a bun in the oven. Just ask Kim K. Recently, Kim Kardashian cleared up rumors about baby number four — again — but it seems she hasn't ruled it out entirely.
On Tuesday evening, E! News caught up the the KKW Beauty mogul to address the rampant rumors about an inevitable fourth child. (Kardashian and Kanye West already have three children together: North, Saint, and Chicago.) Kardashian took on the topic at the Christie's What Goes Around Comes Around 25th Anniversary Auction in Beverly Hills.
"I don't know, I don't know, I read that, I read something... none of that was true," Kardashian said, according to E! News. "But I've been really open about it and talked about it on our show, so...I don't know." She continued, "We start filming season 16 next week, so if I think about it more and it's gonna happen, you'll definitely see it on the show. But as of now, no."
Those who are dedicated fans of Keeping Up with the Kardashians know that Kardashian's first two pregnancies were not easy — and that her doctors told her that another pregnancy wouldn't be safe, according to E! News. With that said, the road to making a baby Chicago a reality wasn't an easy one.
"You know, it is really different," she told Entertainment Tonight back in November 2017. "Anyone that says or thinks it is just the easy way out is just completely wrong. I think it is so much harder to go through it this way, because you are not really in control." According to Entertainment Tonight, she continued:
Obviously you pick someone that you completely trust and that you have a good bond and relationship with, but it is still … knowing that I was able to carry my first two babies and not my baby now, it's hard for me. It's definitely a harder experience than I anticipated just in the control area.
So how did all of this talk about a fourth Kardashian-West baby get started this time around? The baby rumors recently became rampant when it was reported that Kardashian and Kanye West had one more embryo left, according to Us Weekly. Yep. Just seven months after Chicago was born, "multiple sources" (all unnamed) revealed to the publication that Kardashian and West were already planning for a fourth child. "[They] have one last embryo left," an insider reportedly told Us Weekly, noting this last embryo was male.
Whether or not Kardashian and West have just one more male embryo left at this point, it's clear the mom of three isn't going to say for sure if another child is currently in the works. And who could blame her? Making a baby is extremely private business — regardless of who will be pregnant. Besides, even if an embryo already has been implanted into a gestational carrier, it would make sense for the couple to stay quiet until later on in the pregnancy. Not to mention, news as big as this would have to be revealed on KUWTK or via social media.
So let's all just take a step back and let Kim Kardashian decide when to spill the news — that is, if she and West even want to go for a fourth child in the first place.