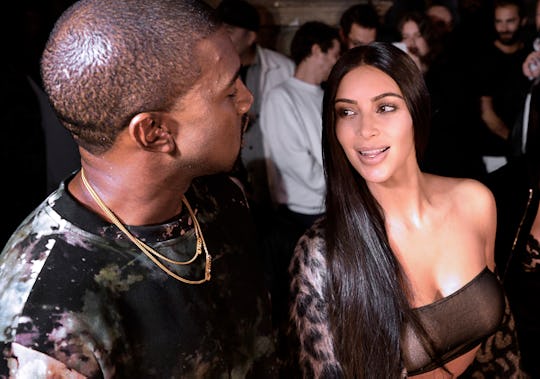 ALAIN JOCARD/AFP/Getty Images
The Sex Of Kim Kardashian & Kanye West's Baby Has Reportedly Been Revealed
This week has just been full of great news about the newest addition to the Kardashian-West crew. After news broke that a due date was ahead for the couple, TMZ reported on Wednesday evening that Kim Kardashian and Kanye West are expecting a baby girl. Now all fans need to do is to start betting on the perfect name for North and Saint's new baby sister. (Kim Kardashian West's publicist had no comment at the time of publication.)
It's pretty exciting for die-hard Kimye followers if true. It wasn't until earlier this summer that the couple confirmed that they were using a surrogate to have their third child, given the complications Kim's endured with her previous two pregnancies. She wrote on her blog during her first pregnancy with North in 2013:
My doctor had to stick his entire arm in me and detach the placenta with his hand, scraping it away from my uterus with his fingernails. My mom was crying; she had never seen anything like this before. My delivery was fairly easy, but then going through that — it was the most painful experience of my life!
She had similar complications with Saint, which is why her doctor recommended a surrogate if the couple wanted to have another child. Over the years, according to interviews both of them gave, it became apparent that they really did. And now it's all happening, which is very good news.
Still, it has to be a super stressful time for the family, for sure. Not only is the couple awaiting the birth of their youngest daughter in January, as previously reported, but there's some serious drama going down in the Kardashian-West household.
No, no, chill out. It's not Khloé and Kourtney rolling their eyes at each other over salads in the kitchen or some new calendar scandal.
Kardashian-West's kids, North and Saint, are reportedly going through some very "normal for their age," but still annoying AF, sibling rivalry. Kardashian-West told Ryan Seacrest earlier this month:
She would get so jealous when I would breastfeed and stuff, but now, the phase isn't going away. But her thing is, she thinks she's outsmarting me. She's like, "We're having a tea party Mom, no boys allowed"...and she'll just slam the door on her brother's face, and he'll just start crying.
There's no word yet whether North or Saint know that another member of their squad is on the way very, very soon. Hopefully, the two toddlers will come to some sort of peace agreement soon about who is invited to tea parties, because there's a new arrival on the way, bound to break up the social vibe at home.
Check out Romper's new video series, Romper's Doula Diaries: