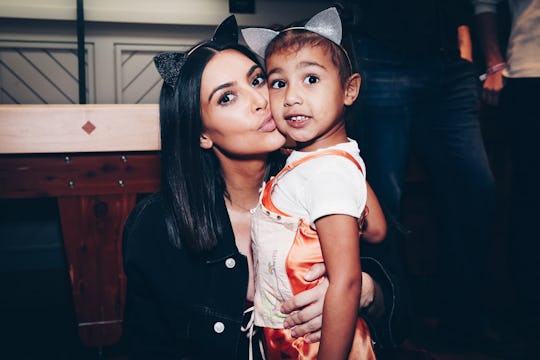 Handout/Getty Images Entertainment/Getty Images
Kim Kardashian Was "Shocked" By North's Reaction To Baby Chicago, & Moms Will Totally Relate
I might not be actual friends with North West, the oldest child of Kim Kardashian and Kanye West, but I'm a fan. She strikes me as a person who shoots straight from the hip for some reason. Maybe it's because I've read so many comments from her mom about North's somewhat salty nature that I assume she's a delightfully spunky little handful, because she's been pretty open about her oldest girl's nature. So when I read that Kim Kardashian was "shocked" by North's reaction to her baby sister Chicago, it's possible I assumed the worst. And I guess I couldn't have been more wrong.
Kardashian spoke to Entertainment Tonight in New York recently about her changing household. Specifically, how her 4-year-old daughter North and 2-year-old son Saint are reacting to the arrival of their baby sister, Chicago, who was born via surrogate on Jan. 15. After Saint was born in 2015, North had a reputation for being somewhat jealous of her baby brother, as E! News reported, so Kardashian explained she was "worried" about how the two older siblings would react to the new arrival. And it seems she didn't really have a thing to worry about. Her growing family appears to be getting along famously.
The KKW makeup mogul told Entertainment Tonight:
They love her. I'm so shocked that North is so nice and she's still... it's her world and she's the sweetest, but it's more like she and Saint have a thing. She's very warm with her sister.
North struggled with the arrival of Saint, which so many moms out there will definitely be able to relate to. Back in Aug. 2017, Kardashian spoke to Ryan Seacrest on Live With Kelly And Ryan about the (seemingly one-sided) sibling rivalry she was dealing with at home. She said:
I don't know if it's 'cause she's the older sister...I don't know what it is; I thought it was a phase. She does not like her brother. It's so hard for me. I thought it was like, "OK, a couple months; she's just warming up to it." She got so jealous when I would breastfeed and all that stuff. Now, the phase isn't going away!
Kardashian admitted that North would host "no boys no allowed" tea parties, and even the famous Kanye West was denied entry, as she explained to Seacrest. "'We're having a tea party. No boys allowed. Dad can't come. No boys!' She'll slam the door on her brother's face, and he'll just start crying," she said during the same interview.
Fortunately, neither North nor Saint seem to be ready to slam the door in little Chicago's face; on the contrary, Kardashian says they're both in love with their baby sister. Which is especially remarkable for Saint considering he's luxuriated as the baby of the family for two solid years. The mom of three told Entertainment Tonight:
I was more worried about him, that he would be more jealous, [like] how North was with Saint. But he's so good with her.Every day he has to give kisses and hugs. Literally, as I was walking in, [I was looking] on my phone at the video Kanye sent me with the kids trying to climb into her crib.
She posted a picture to Instagram on Saturday of Saint kissing his baby sister with the caption, "He loves her so much"
So it looks like the Kardashian West family has found a nice balance. The older kids, who spent the day at the San Diego Zoo with their parents last week, are happy about their baby sister. Which means Kardashian and West can rest easy. For now.
As a parent of four kids myself, I don't want to burst Kim Kardashian's bubble. But once that little baby stops looking like a doll and starts moving around... let's just say things could possibly change a little. Enjoy the peace and quiet while you can, right?
Check out Romper's new video series, Bearing The Motherload, where disagreeing parents from different sides of an issue sit down with a mediator and talk about how to support (and not judge) each other's parenting perspectives. New episodes air Mondays on Facebook.