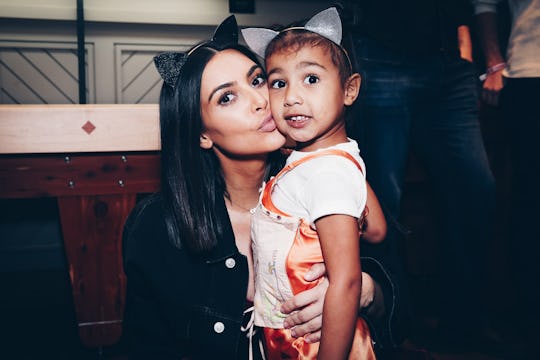 Handout/Getty Images Entertainment/Getty Images
Kim Kardashian Has Quite A Few Parenting Hacks Up Her Sleeve
Kim Kardashian West does it all; she's an incredibly successful entrepreneur, a model, a fashion icon, a sister, daughter, wife, mother, friend... and I know she's not everyone's cup of tea, but I honestly think she's sort of killing it in all of these arenas. Which can't be easy, especially as a new mom of three, now that baby girl Chicago West has been safely delivered via surrogate. It must feel like mayhem, but the KKW mogul takes it all in stride. She's even learned a tip or two along the way. In fact, Kim Kardashian West's parenting hacks are all about making life easier for herself and her kids. And I say amen to that... especially considering the fact that she has not one but two sisters (Kylie Jenner and Khloé Kardashian) who are starting 2018 as first-time moms.
Kardashian West has long been a favorite target for the league of mom-shamers on social media, who seem to want to call her out for everything from dressing her daughter "inappropriately" to leaving her baby at home to accusing her of doing lines of cocaine while promoting her children's line of clothing, Kid Supply (the first two are up for debate based on personal choice, I suppose, but the last accusation was proven false, as she shut any speculation down real quick).
Yet, she still seems to be game with sharing a few easy parenting hacks with her fans. Here are some of the best ones.
1. Hot Take On Picky Eaters
Kim K.'s two oldest children, 4-year-old daughter North and 2-year-old son Saint, are apparently pretty picky eaters, a dilemma well recognized by parents everywhere, of course. So what does the Kimoji boss do to satisfy her kids eating needs? Hot dog sushi, obviously.
Back in February, she shared a picture of this little food hack on Snapchat with the comment "when your kids love hot dogs and sushi, you get #HotDogSushi." Some people have even taken to giving this recipe a shot themselves, so it can't be all bad. Especially if it meant her kids would eat.
2. Stamping Out Sibling Rivalry
And speaking of sushi... Kardashian's daughter North is notorious for being incredibly jealous of her little brother, Saint. So when her parents were preparing to bring another baby home, you can understand why they were worried about how she might react. So what did the wise mama do? She bought her daughter a dog, which North named Sushi after much deliberation. A source close to the family explained to People:
North has been asking for a puppy for a long time. Kim thought it was a good idea for North to take care of a puppy. It could prepare her for baby sibling too.
3. Birthday Party #Kidchella
In the world of Kim Kardashian West, go big or go home, especially when it comes to throwing your kid an epic birthday party. North's first birthday was renamed Kidchella, and rented out a ferris wheel that was erected in sister Kourtney Kardashian's backyard for the day; Coachella was the inspiration, of course. What could possibly top that? For North's second birthday, they rented out a section of Disneyland. While this might not be a parenting hack, it could certainly be considered a parenting aspiration, right?
4. Fully-Equipped Nursing Bra
When the Keeping Up With The Kardashians star was still nursing son Saint, the notoriously jealous North was not having it, as Kardashian West explained to Ellen DeGeneres during a taping of Ellen. So she had to do some quick thinking in order to feed both of her kids.
She's just so jealous. I can't hold [Saint]. I had to stop breastfeeding him. I mean, when I was breastfeeding, she was so jealous I had to get a little milk box and put it in the other bra with a straw. So she would drink and he would drink. She's soooo jealous.
I can totally see this working, actually. And now that there's a third baby, things could get complicated.
5. Wardrobe Woes
Kim K. might be a serious fashion icon, but that doesn't mean she forces her daughter to dress like her. While she might have some expectations, she carves out time each day for North to express her own personal style, as she told The Vancouver Sun:
Every morning and every night is her time to shine. She can wear costumes, which she really loves. She wears wild pyjamas. And then when we go out, she really just wears whatever I want. She makes it really easy. But we have that comprise.
At the end of the day, Kim Kardashian West is just like other moms; she's trying to make it up as she goes along and keep everyone happy in the meantime. One piece of hot dog sushi at a time.
Check out Romper's new video series, Bearing The Motherload, where disagreeing parents from different sides of an issue sit down with a mediator and talk about how to support (and not judge) each other's parenting perspectives. New episodes air Mondays on Facebook.