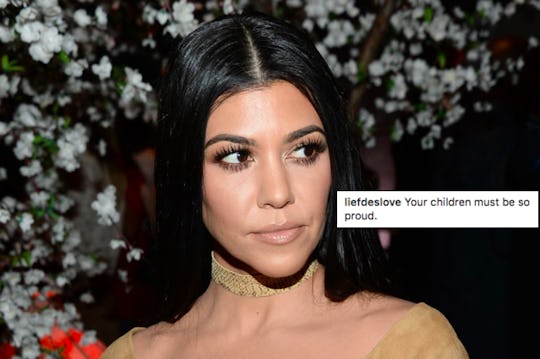 Matt Winkelmeyer/Getty Images Entertainment/Getty Images
People Are Shaming Kourtney Kardashian For Wearing A Bikini In This Pic & It's Not OK
Hello and welcome to the latest addition to "woman does something and the internet shames her." Today's episode is all about how a woman who has birthed and raised three children shouldn't post a photo of herself enjoying a tropical vacation. That's right, Kourtney Kardashian is getting mom-shamed after she posted an Instagram photo of herself wearing a bikini. A lot of people seem to have a problem with the sexy shot because, you guessed it, she's a mom.
Kourtney, who is a 38-year-old independent woman, mother, and eetrepeunear posted a cute photo of herself in a bikini and people really can't just let her live. According to People, Kourtney is currently on vacation in Punta Mita, Mexico. On Wednesday, she shared the ~*risqué*~ photo of herself, showing her relaxing poolside while enjoying the view and eating guacamole. But because she's a mom and she posted a photo of herself in a bikini, people had thoughts.
"Your children must be so proud," one user commented, which quite obviously came with a sarcastic tone. Another added, "Wow didn't think of the kids posting this one kourt... Smh." Because, you know, moms should only ever live their lives in a way made up by someone else in order to make their children proud. Obviously.
Other users were a bit more vocal, with one commenting, "No one wants to c u a** good roll model for your young daughter have some class." You know what is classy? Proper spelling and grammar, y'all.
This is definitely not the first time that a mom has been shamed online for doing something totally mundane, like getting a tan while wearing a bikini. This shouldn't have to be said, but Kourtney has the right to wear whatever she wants — and post whatever she wants. But for some reason, people seem to think that because she's a mom, her kids shouldn't see her in a bikini — and this is their invitation to let her hear all about it. Ugh...
But isn't that part of the problem? If kids don't grow up seeing all kinds of female bodies then they might grow up with some pretty twisted expectations. Truly, as Common Sense Media found:
Parents play a huge role in shaping how kids think and feel about their bodies. Starting to bolster kids' body image early, even in preschool, can make a big difference in how kids feel about themselves as they grow up.
So really, Kourtney is doing her kids a favor.
Listen, if you choose to be more modest and don't want to wear a bikini or post pictures of yourself wearing one, that's totally fine! But you know what? It's also totally fine for someone else to make different decisions. Just because Kourtney is a mom doesn't mean she can't post cute photos.
I may be wrong, but I'm pretty sure that 8-year-old Mason, 5-year-old Penelope, and 3-year-old Reign don't really care what their mom wears.
And as annoying and unnecessary as people's complaints about Kourtney being a mom wearing a bikini are, people are also accusing her of photoshopping the photos, and that's also not OK.
"Probably photoshopped more than Kim," one user commented, while another wrote, "Worst photoshop ever! Anyone else notice how much bigger her right cheek is compared to left?" Jealousy isn't cool, y'all, and it doesn't really matter if Kourtney photoshopped the photo, does it?
Kourtney wearing a bikini really isn't hurting anyone, but shaming her for doing so is wrong and really... it just has to stop.
Check out Romper's new video series, Romper's Doula Diaries:
Watch full episodes of Romper's Doula Diaries on Facebook Watch.