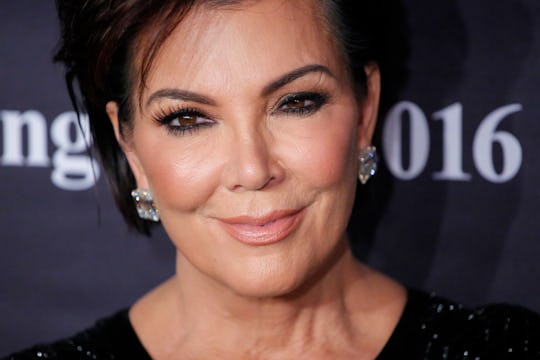 KENA BETANCUR/AFP/Getty
Kris Jenner & Blac Chyna's Mom Come Face To Face On The 'Rob & Chyna' Baby Special
The drama between Rob Kardashian and Blac Chyna goes back so far and takes so many different angles, you could be forgiven for not being able to follow all of it completely, especially when it involves other members of their family. So that's why it was really interesting to see Kris Jenner and Blac Chyna's mom come face to face on Rob and Chyna's baby special. This was a big deal for several reasons. Chyna's mom, Tokyo Toni, hasn't always been on the best terms with Kris Jenner, to say the least.
But let me back up here for a moment. Chyna had her first son, named King Cairo, with the rapper Tyga. You may also be aware that Tyga is now dating Kylie Jenner, who is Rob Kardashian's youngest sister. When Kylie and Tyga first got together, Tokyo Toni made some very public and pretty aggressive statements about how she felt about Kris Jenner and the Kardashians in general, in defense of her daughter. Hint: she did not feel very warm and fuzzy about them. So in the baby special when Chyna told her best friend that she wanted both her mother and her mother-in-law to-be in the delivery room with her, her friend was understandably a little skeptical. After all, these women haven't come face-to-face before, so it was anyone's guess how they were going to react upon seeing each other.
Before the big day, Chyna asked her mom to be on her best behavior when meeting who she calls "Miss Kris." Warning her that she can sometimes come across as intimidating. Tokyo Toni, for her part, said that she'd be on her best behavior, but she's not going to let anyone step out of line without being called out on it. Chyna was maybe being conservative when she said, "Miss Kris and my mom are like totally opposite people." They first met at Kris's house, and called the doctor just days before the scheduled c-section, where he said that only two people would be allowed in the delivery room. It turns out the two women wouldn't have to worry about getting along in the delivery room at all, as only one grandmother would be allowed in. We knew that the drama was over when Tokyo generously allowed Kris to be the one to be in the delivery room since this was going to be Rob's first child and she had been there for King's birth.
Of course, it wouldn't be a reality series if there wasn't some drama involved, but luckily for Chyna, her sweet baby girl, who the couple named Dream, was born with relatively few complications. She may be in for an interesting and certainly never boring life, but she's definitely surrounded by love on all sides.