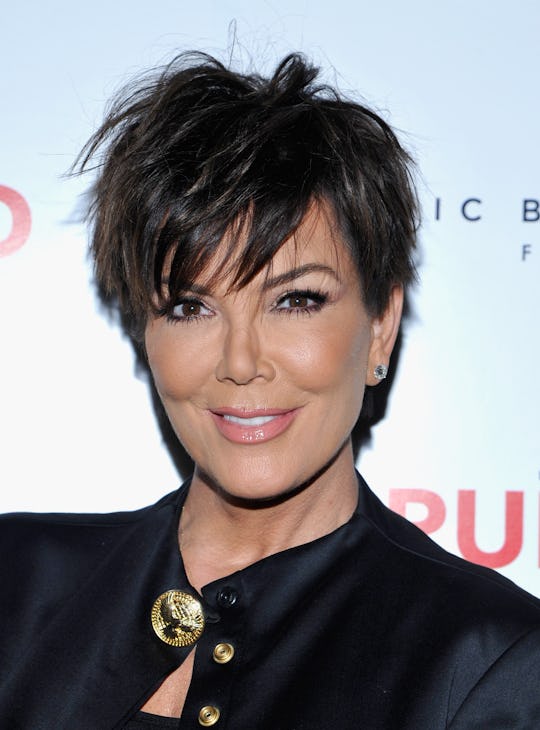 Kris Jenner's Latest Instagram Features Scott Disick, & What She Says About Him Shows Promise
Even if Scott Disick's life has been turned upside down by substance abuse, relationship issues, and bouts of paranoia since his Kardashian rise to fame, he's still got family to lean on. In a recent Instagram message, Kris Jenner shows nothing but amazing support for Scott Disick, despite everything he's done, everything he's been through, and everything he's (unfortunately) put their family through.
On Wednesday, Kris Jenner posted a photo for herself and Disick captioned, "This is one of the true loves of my life...Feel so blessed to have him as the baby daddy to my Grandkids." Since Disick and Kourtney Jenner split up this past July, it seems like Scott's made a commitment to staying involved in the lives of their three children, Mason, Penelope, and Reign. The two exes have remained friends through the breakup, and on recent episodes of Season 11 of Keeping Up with the Kardashians, Kourtney's made a concerted effort to keep Scott a positive, available presence on a day to day basis in his kids' lives, regardless of how difficult that may be for her on a personal level.
Kris Jenner went on to say, "You are amazing @letthelordbewithyou and I love you. #proudmama #memories #family #youareeverything." That's quite an endorsement, but it isn't the first time Jenner has made an effort to keep Scott part of the family since he and her eldest daughter broke up over the summer. Jenner refers to Scott has the "baby daddy" of her grandkids, which could be a hint that things aren't exactly great between him and Kourt at the moment, but what's important is that Kris's show of support reminds us how deeply she must love and care about him. The couple was together for nine years before breaking up, and a lot can go down in that kind of time frame. Plus, they've got three kids. After Scott lost his own parents — his mom followed by his dad, respectively — Scott doesn't have many parental figures to turn to. Say what you will about Kris Jenner, but her commitment to seeing him flourish and be healthy on a personal level is incredibly important; plus it shows just how deep their love for one another runs. Scott being there as a parent definitely a priority, but the fact that Kris cares about his health and well-being speaks volumes as well.
But today wasn't the first time Jenner has voiced support for Disick, and it's definitely not his first time back on her 'gram. In an Instagram picture posted on Thanksgiving, Scott is front and center, holding on to Mason while the Kardashian-Jenner-West-Disick family celebrated the holiday together:
We're amazed that Disick still has the blessing of the Kardashian matriarch, but maybe there's something to this forgiveness thing. Sure, Disick's made some mistakes, but he's still part of the family. Plus, which Kardashian hasn't made mistakes?
Images: John Sciulli/Getty Images for Brian Atwood, Kris Jenner/Instagram