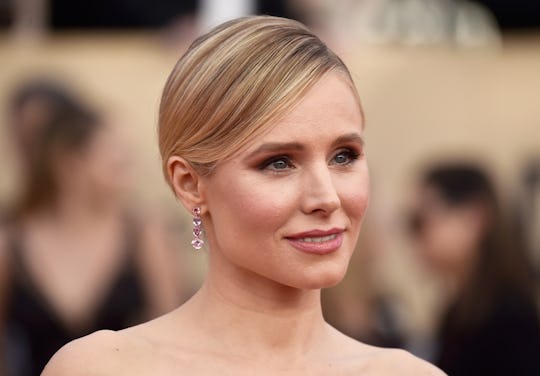 Frazer Harrison/Getty Images Entertainment/Getty Images
Kristen Bell's Photo Of Her Daughter's First Day Of School Is Bursting With Love
Fans might remember when Kristen Bell broke down in tears — adorable tears, I might add — at her daughter's pre-school graduation a mere 10 days ago on Aug. 12. But just when you thought Bell had reached her emotional milestone limit (there's only so much a mom can take, right?), she braved another parenting benchmark: 5-year-old Lincoln's first day of school. So, how did Bell handle this momentous occasion? Although the particulars of the day were kept private, Kristen Bell's photo of Lincoln's first day of school says a lot about how she and her husband, Dax Shepard, operate as family. Spoiler alert: Lincoln has two amazing parents in her corner.
One of the most admirable things about Bell is how open she is with her emotions. Girl is as expressive as they come, and she has no qualms about sharing her feelings with the world. Case in point: At Lincoln's graduation on Aug. 12, Bell broke down in tears during a class performance of "I've Got Peace Like A River." Bell joked about the moving rendition in her Instagram Stories, according to E! News: "Don't worry guys, I'm having a GREAT time at preschool graduation. I'm not a mess or anything." And just a few moments later, a clearly emotional Bell admitted to fans: "OK I was lying before, please send help."
Considering Bell tends to struggle with parenting milestones (who could blame her?), it's fair to assume Lincoln's first day of school was as equally heart-wrenching as her preschool graduation. Luckily, Bell and Shepard decided to tackle the potentially tough transition together as a strong family unit. "Nerd alert!!! The team Shepard loves school!!" Bell captioned a shot of herself and Shepard walking hand-in-hand with Lincoln while en-route to school, as she shared on Instagram. Talk about a precious photo.
Cuteness and Shepard's killer overalls aside, it's important to note the use of the word "team" in Bell's caption. It's clear Bell and Shepard are sending the message to Lincoln that she has their support during this new chapter, and that they'll handle any problems or triumphs together.
Additionally, you got to love how Shepard and Bell both attended Lincoln's first day. Although not every family is fortunate enough to make this a possibility, it's great to see the parents took advantage of their flexible schedules to cheer Lincoln on.
But wait — that's not all. Bell also shared a snap of Shepard giving Lincoln a big and heartfelt hug. (second in photo post). Like I said, the Bell-Shepard fam is there for Lincoln 100 percent.
Of course, you also got to give the parents props for maintaining Lincoln's privacy (you can't see her face in the pics) on this special day. As most fans already know, Bell and Shepard choose not to show their daughters' faces on social media, and they're very vocal about protecting the privacy of all celebrity kids. In fact, Bell has confronted the paparazzi at her daughters' school once before.
Bell elaborated on one these confrontations during a conversation with TODAY's Natalie Morales in May at the Mom 2.0 summit. Upon seeing a paparazzo taking photos of her kids, Bell decided to take matters into her own hands by talking to the person directly. "Hi. My name's Kristen. Do you realize how much you are putting my kids at risk?" Bell asked the paparazzo, as TODAY reported. "I have confidence your mom raised you better. I'm asking you to delete those photos." Way to go, mama.
You don't have to be a fan of Bell or Shepard to admit they're pretty awesome parents. Not only is their sweet family photo from Lincoln's first day of school proof of that, but so is their commitment to protecting her privacy. On that note, here's to hoping Lincoln has an amazing year of kindergarten.