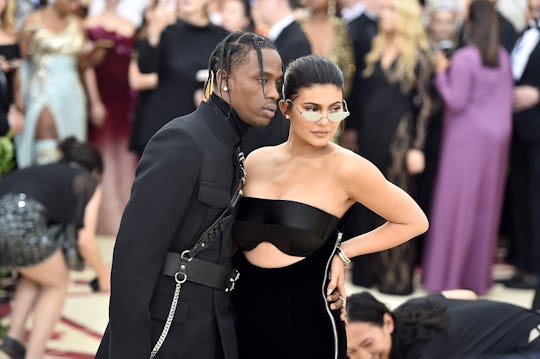 Theo Wargo/Getty Images Entertainment/Getty Images
Kylie Jenner, Travis Scott, & Baby Stormi's Thanksgiving Family Portrait Is #Goals
Happy Thanksgiving! Today is a day to gather with friends and family, eat entirely too much delicious food, and reflect on what you're truly thankful for in this life. Oh, and if you happen to be a Kylie Jenner, it's the perfect opportunity to share with your 119 million Instagram followers an epic family photo with a low-key caption. But honestly though, Kylie Jenner, Travis Scott, and baby Stormi's Thanksgiving family portrait is #goals.
On Thursday, Nov. 22, the Kylie Cosmetics mogul dropped an adorable new photo of her little family of three, Inqisitr reported. The black-and-white picture features a blonde Jenner posing with her boyfriend Travis Scott and their daughter, Stormi Webster. In the shot, Jenner is holding 9-month-old Stormi in her arms — while giving her a smooch on the cheek — and Scott is leaning in toward his girlfriend and daughter. She captioned the post simply with, "Thankful."
Judging by the 6 million likes Jenner's post has managed to attract so far, her Instagram followers promptly melted from the cuteness overload. One person commented, "Beautiful family 👏🏼👏🏼."
Another Instagram user wrote, "Stormi's little face is so adorable!! 😍."
While another person declared, "So perfect 😍😍😍😍."
On the heels of this epic family portrait, Jenner shared another black-and-white photo of just herself and Stormi, writing, "Happy Thanksgiving 🖤." (Just look at those cheeks!)
Ahead of Thanksgiving Day, Jenner also shared how much she was looking forward to the holiday, ET Online reported. "Can't wait to eat my body weight in Thanksgiving food tomorrow," she tweeted on Wednesday. (LOL. You and me both, sister.) "But on that note I feel very thankful I was able to provide Thanksgiving meals this year to people in need of one. It's important we spread the love." She went on to add, "Thankful for you guys."
For the record, Kylie wasn't the only member of the Kar-Jenner clan to share a family photo in honor of Thanksgiving Day, Mom-ager Kris Jenner posted a throwback photo of herself and all six of her children, E! Online reported, along with a heartfelt message. "Happy Thanksgiving Guys!!! I am so thankful for all of you. Thank you for all of your love and support always... what a gift life is," she wrote. "Enjoy every precious moment.... I am so thankful for and cherish these 6 amazing blessings and all of my beautiful grandchildren... I give thanks to God every single day. I love you 🙏❤️😘😍🦃."
Khloé Kardashian — whose daughter, True Thompson (in addition to Stormi) is celebrating her very first Thanksgiving — also shared a special holiday shoutout to her fans via Twitter. "Happy Thanksgiving loves!!" Kardashian tweeted. "May the best things in life be yours, not only this Thanksgiving but throughout the years. Happy Thanksgiving from my heart to yours! I'm busy cooking my heart out!!"
Considering several members of the Kar-Jenner clan were recently forced to evacuate their homes because of the California wildfires, I'm going to go ahead and assume they — along with so many others affected by blazes — have a slightly different perspective about the word "thankful" this year. And judging by their social media posts on Thursday, they do seem truly thankful for the many blessings in their lives. Happy turkey day, everyone!
This first-time mom wants to have a home birth, but is she ready? Watch how a doula supports a military mom who's determined to have a home birth in Episode One of Romper's Doula Diaries, Season Two, below. Visit Bustle Digital Group's YouTube page for the next three episodes, launching every Monday starting November 26.