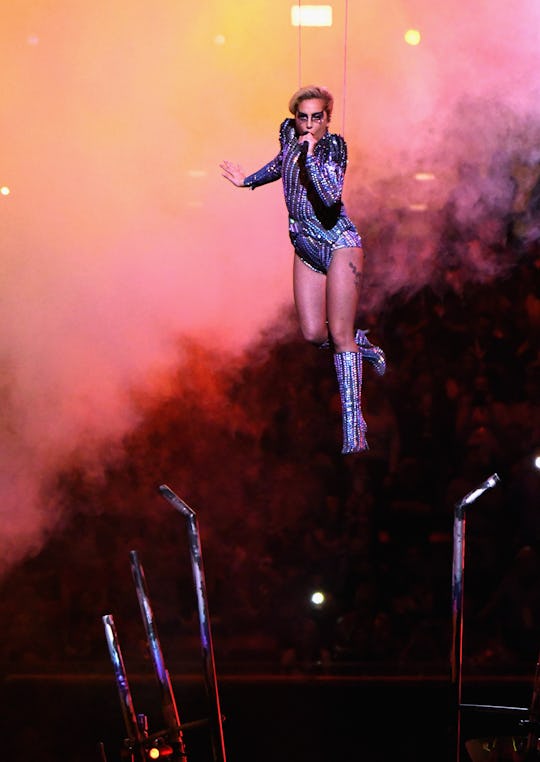 Larry Busacca/Getty Images Entertainment/Getty Images
Did Lady Gaga Channel Spongebob At The Super Bowl?
Lady Gaga's Super Bowl 51 performance was much tamer than everyone thought, but the internet still refuses to let up and the Lady Gaga Spongebob Squarepants jokes and memes during halftime prove it. Yes, you read this correctly. Twitter is comparing Lady Gaga to Spongebob Squarepants and you know what, I think the pop star would take that as a major compliment.
The halftime show at Super Bowl 51 was more than just a place for memes-lovers to rejoice — it was also a pretty spectacular show. Although there were rumors circulating that Lady Gaga was going to bring Queen Bey into the halftime show and that she was going to give a much more political performance than she actually did, it turns out that Lady Gaga's show was simply what she's always done — talented, innovative, and a damn good time.
According to Fox Sports, the 12-minute concert is already being considered one of the best halftime shows in Super Bowl history. In fact, many are thinking that it ranks with Beyoncé, Prince, Bruce Springsteen, and even Michael Jackson and their Super Bowl halftime shows.
But that doesn't mean the internet isn't going to share its critiques. And for a lot of Twitter, that means comparing Lady Gaga's performance to that of a fictional, talking sponge.
Look, I don't know a whole lot about Spongebob. I remember the cartoon when I was younger, but beyond that, I couldn't tell you a whole lot about the little yellow character. But the memes and jokes comparing Lady Gaga to Spongebob are just too much. Or are they really memes and jokes touting how much Spongebob actually wants to be Lady Gaga? I vote both.
Apparently the cartoon has also had a similar concert entrance to that of Lady Gaga and Twitter was quick to notice and compare the two. I mean, Lady Gaga is a pretty hilarious individual, so I'm sure she'd feel like she was in esteemed company to know that she became a meme with Spongebob. Whether her show was the best of the best or not, let it be known that the internet immediately took it to a Nickelodeon cartoon and you know what, that's pretty spectacular.