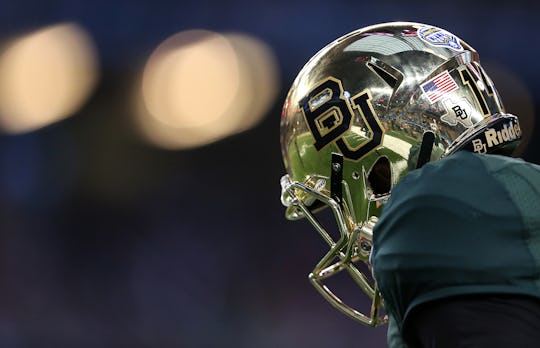 Sarah Glenn/Getty Images Sport/Getty Images
Baylor Lawsuit Details Alleged Gang Rape
As the nationwide campus sexual assault crisis intensifies, a new lawsuit contains grisly details of the alleged gang rape of a female student at an off-campus party — and the alleged inaction of Baylor University officials in the aftermath. Filed in a Texas federal court Wednesday, the suit claims Baylor football players raped women as a "bonding experience." In this specific case, a former student identified in the suit only as "Jane Doe" alleges that at least four but possibly as many as eight football players drugged and raped her during the incident she claims happened in February 2012.
According to New York Magazine, this marks the seventh Title IX lawsuit filed against the historically Baptist school; Both its athletic director and president were fired in 2016 for reportedly mishandling such allegations. Another suit against the university, filed in January, alleges that at least 31 football players committed at least 52 rapes between 2011 and 2014. Even before that, in 2016, the school's athletic director, as well as other officials, left their posts amid allegations that they had not reacted to reports of sexual assaults involving students appropriately, stating that their departures would help the school promote "unity, healing and restoration," according to CBS News.
In a statement to Romper, a Baylor spokesperson said the school "has been in conversations with the victim's legal counsel for many months in an attempt to reach an amicable resolution" in addition to working to improve its response to sexual assaults, and "investing significantly in student support services." The statement continued:
As this case proceeds, Baylor maintains its ability to present facts — as available to the University — in response to the allegations contained in the legal filing. The University's response in no way changes Baylor's position that any assault involving members of our campus community is reprehensible and inexcusable. Baylor remains committed to eliminating all forms of sexual and gender-based harassment and discrimination within our campus community.
Still, these changes do little to change what allegedly happened to Doe and other victims. According to Deadspin, her lawsuit alleges that the rape took place at an off-campus party at an apartment where members of the football team lived. Afterward, the football players allegedly repeatedly texted Doe and even her family members, insisting that she "wanted it" and telling her that nude photographs of her, taken during the rape, existed. The players also allegedly burglarized her apartment, an offense to which police were alerted but no charges were ultimately filed. They also started a rumor that she had stolen their dog earlier in the year, as she had taken it to the vet when it was hurt in a dogfight the players allegedly incited.
Still, the university allegedly did not react appropriately when the student reported what had happened to her, her suit claimed. Upon learning of the alleged gang rape for example, the victim's mother claimed she met with an assistant football coach to discuss it, even giving him the names of the offending players, but he never followed up, the Waco Tribune-Herald reported. Likewise Doe allegedly informed a football chaplain of what had happened during a subsequent mission trip, but now claims that he never spread the news to officials outside the athletics department. Additionally, Doe claimed she was allegedly discouraged from taking action during Baylor counseling sessions, and was allegedly never informed about Title IX reporting options.
Perhaps most chillingly, the Tribune reported that rapes such as the one Doe purports to have endured served a specific purpose among football players: bonding. As Phillip Ericksen wrote:
According to the suit, the football team had a system of hazing freshman recruits by having them bring freshman females to parties to be drugged and gang raped, "or in the words of the football players, 'trains' would be run on the girls."
It's a terrifying prospect, indeed — and a possibility that every university in the nation should take very seriously.