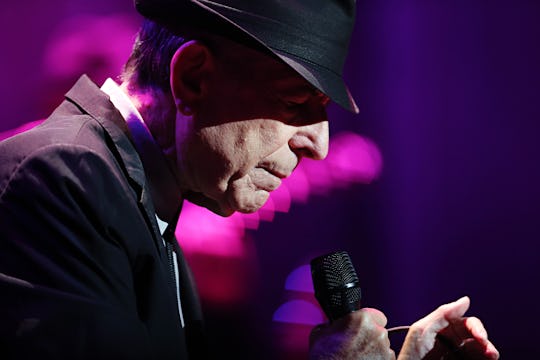 AFP/AFP/Getty Images
Leonard Cohen's Last Performance Embodies Everything Fans Adored About Him
Not even a full 48 hours after an election cycle that rocked the country and the world came to a jaw-dropping close, legendary artist, entertainer, and performer Leonard Cohen died. As fans and adorers come to grips with the news, Leonard Cohen's last performance is a testament to the legacy the one-of-a-kind artist leaves behind. Rolling Stone notes that a statement left on the musician's Facebook page served as the announcement that the star had died. It read:
It is with profound sorrow we report that legendary poet, songwriter and artist, Leonard Cohen has passed away. We have lost one of music's most revered and prolific visionaries. A memorial will take place in Los Angeles at a later date. The family requests privacy during their time of grief.
At this time, Rolling Stone points out that a cause of death and the exact date of his passing have yet to be released. The magazine also points out that at the legend's final stop in his "Grand Tour" concert series, he took the stage for one final time to perform a two-part encore. Taking the stage at Auckland, New Zealand's Vector Area, which conveniently marked his 69 show of the year, Cohen performed "I Tried to Leave You" and then a cover of "Save the Last Dance for Me."
The encore is, unsurprisingly, absolutely beautiful and is filled with all the markings of Cohen's signature performance style, but it's what he says after finishing the last note that bears particular weight, especially right now. "Friends," he said, "I want to thank you for the wonderful hospitality you've showed us tonight. I want to thank you not just for tonight, but for all the years you've paid attention to my songs. I really appreciate it." News of his death (and the particularly turbulent election cycle Americans have faced) only make his message and his work all the more prolific. He left the stage, Rolling Stone points out, after removing his hat, bowing, and offering up one last smile.
Though dozens of artists have covered "Save the Last Dance for Me," Cohen never returned to the stage after exiting that night. In a way, choosing that song served as the final marker of his successful, compelling, poignant, and inspiring career. It was a touching way to leave the stage: crowd inspired, a fan favorite, a song that has for years served as a spark of joy. Cohen could not have picked a more meaningful way to say goodbye.