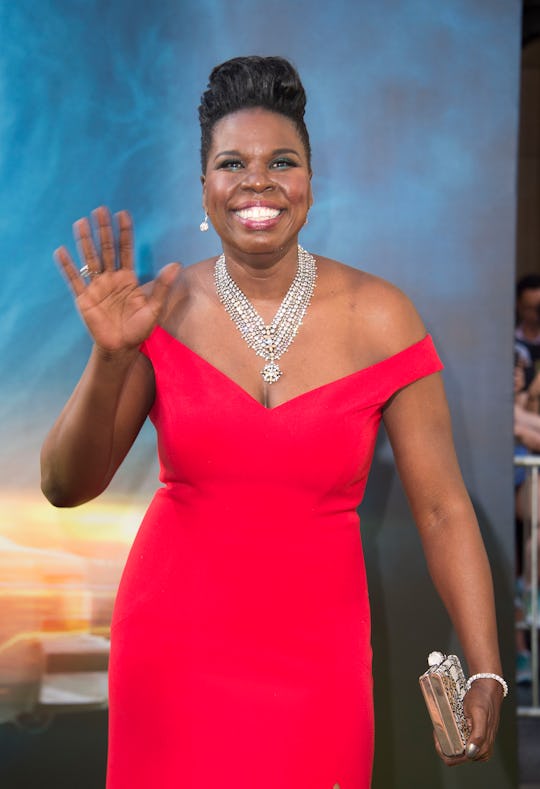 VALERIE MACON/AFP/Getty Images
Leslie Jones Live Tweets About The Vice Presidential Debate & It's All Of Us
Adding her trademark humor to the conversation on this less than traditional election, SNL's Leslie Jones' live tweeted about the vice presidential debate on Tuesday night, and her reactions were essentially what everyone watching was thinking. Before Gov. Mike Pence and Sen. Tim Kaine took the stage on Tuesday night, the funny woman had already tweeted that she didn't "what the f*ck" was going on.
It wasn't the first time Jones has made headlines for her hilariously on-point political commentary. The Ghostbusters star also live tweeted throughout the first presidential debate on Sept. 26, adding a perfect blend of humor and authenticity to a very important discussion. Even though it seems like actress has a knack for political commentary, before she began tweeting her reactions last week she admitted that didn't know exactly what was happening on stage — but "hell, it's got to be fun!!" she joked.
Along with the rest of the 84 million people watching the first debate, Republican nominee Donald Trump consistently interrupting his Democratic rival Hillary Clinton did not go unnoticed by Jones either. The comedian called out the debate's moderator NBC's Lester Holt and tweeted, referring to Trump, "Please. Cut. Him. Off. Wtf."
Fans were hopeful that Jones' vice presidential commentary would fall in line with her accurate and comedic take on the Trump and Clinton's first official face-off. And if you have a look at her tweets from that first night, it's obvious that the actress is not happy with the Republican candidate. Jones called Trump a narcissist, compared him to a car salesman, and warned voters that she didn't think he was "informed at all" and that Trump was "not listening at all" throughout the debate.
Similarly on Tuesday, Jones seemed ready and willing to put the both the Democratic and Republican VP candidate through the ringer, right off the bat — only this time, it seemed she was suffering from a bit of (hilarious) confusion. "I'm gonna try to live tweet the VP debate but right now they look like two NCAA coaches," Jones joked. "... I don't know what the f--k going on!"
Jones wasn't the only viewer planning on live tweeting the debate. Earlier on Tuesday, Trump announced that he would also be providing live commentary on all the action. The GOP nominee tweeted, "I will be watching the great the great Governor @Mike_Pence and live tweeting the VP debate tonight starting at 8:30pm est! Enjoy!" Trump kept his promise, tweeting throughout the debate and retweeting insults directed at the Democratic ticket from supporters (at the same time his running mate was busy claiming theirs was not a campaign based on insults).
Unlike Trump, however, and much to the chagrin of fans everywhere, Jones herself didn't follow-up on her initial live-tweet promise — not that she didn't unintentionally provide a hilarious send-off. "Yo, I got the 'Beats by Dre' but I think I got the wrong ones. They too small," she wrote in a tweet a short while later. "Which ones is the bigger ones? I'm confused."
If you're going to spend the night confused about something, at least follow Leslie Jones' lead and make it something you can enjoy again later — not a political debate.