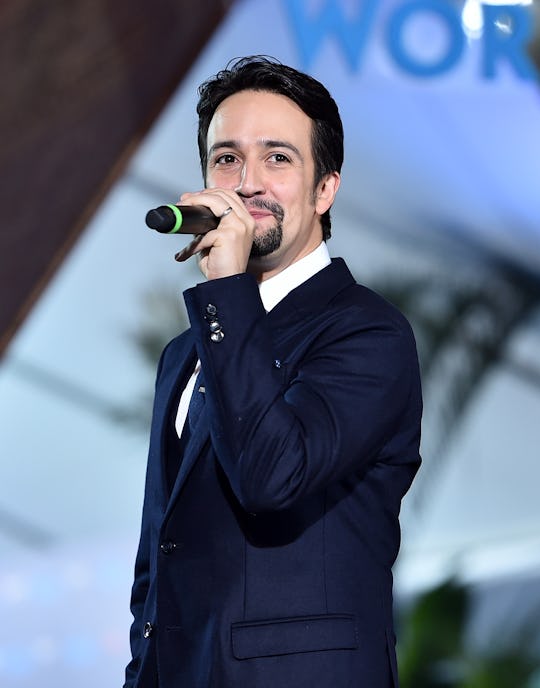 Alberto E. Rodriguez/Getty Images Entertainment/Getty Images
Lin-Manuel Miranda's Twitter Bio Got An Update
Football fans are always captivated by any Super Bowl performance, but when the Hamilton stars took the stage this Sunday, the game was taken to a whole new level. Even Lin-Manuel Miranda, who added the words "and Sisterhood" to his Twitter bio in honor of the "Schuyler" sisters' amended performance of "America the Beautiful," was tuned in. And his Twitter edit, unsurprisingly, had plenty of Hamilton devotees and football fans alike talking.
Miranda, of course, was on point (as he always is) when he added the Schuyler sisters mention to his bio. The women gave a great rendition of "America The Beautiful," but they tweaked it. Rather than sticking to the traditional lyrics, the trio at one point sang, "And crown thy good with brotherhood … and sisterhood... from sea to shining sea!"
In other words, they made the song a real life patriotic and feminist anthem. And they straight up killed it. There is no longer any way to sing "America The Beautiful" other than the way that the Schuyler Sisters sang it at the Super Bowl over the weekend.
It might seem like it's a little cheeky to add "sisterhood" to "America The Beautiful" but it's not. In fact, the entire song is all about the founding principles of the country, which is why it was so empowering to hear the three women add "and sisterhood" into the hook of America's second national anthem.
It's not easy to adlib national anthems but they nailed it. The three actresses, who starred in the original cast of Hamilton on Broadway and have since become icons in their own right, could have easily done a simple, traditional version of the song, but knowing their own legacies, their background in one of the country's most moving political musicals, and the current political climate, they made the right choice — and it was a powerful one.
All three women have since left the original cast but they do a decent job at keeping friends and family totally obsessed with Hamilton, whether through their tweaked lyrics or their supportive social media presences.
Social media, then, rightly took notice of the change on Sunday. Take Chrissy Teigen, for example, who wrote, "SISTERHOOD" on her Twitter timeline after she heard the three women lay it down for everyone on Sunday night.
Hamilton star Miranda may have had a lot of feelings about the performance — his Twitter bio now reads as much — but he definitely wasn't the only one.