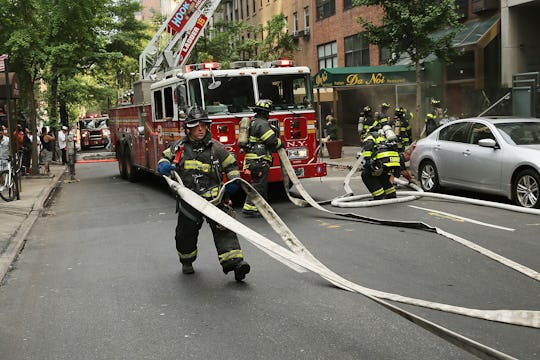 Spencer Platt/Getty Images News/Getty Images
Little Boy With Cancer Becomes A Fireman, & His Smile Says It All
On May 31, the New York Fire Department will swear in its newest member, and it's not the usual burly recruit. It's a beaming 3-year-old named Trucker Dukes. Dukes has been in New York City for the past year and a half for cancer treatment, and during that time he's cultivated a very special bond with the FDNY. Given Dukes' devotion to their work, they must have known it was about time this little boy with cancer becomes a fireman.
Dukes and his mother came to New York all the way from Maui, Hawaii, so he could receive treatment for Stage 4 neuroblastoma. His particular condition is a rare and advanced one that affects the nervous system. Treatment can be long and taxing on his system, but you would hardly know it from his ear-to-ear smiles whenever he sees a fireman. Back home in Hawaii, Dukes' dad is a firefighter, so when they came back to their New York apartment one day and the place was surrounded by firetrucks, Dukes was thrilled. Without much introduction, he gave Captain James Grismer and members of his team big hugs. Of course, that time the fire department wasn't there for Dukes; it was there for a small fire, but since that moment the fire fighters have had a big fan. According to TODAY, Dukes' mother said, "Every fire truck, he thought it was for him. He would hear a siren, and his jaw would drop."
Grismer told Hawaii news channel KHON 2 about that first meeting. "I see this little boy excitedly walking towards me with his eyes aglow. I opened my arms and he basically climbed up and hugged me around the neck," he said. "It was as if we've been friends/brothers for years."
After that, Grismer invited Dukes to visit the fire station and gave him the grand tour. He showed him the ins and outs of their department, and even let him explore their firetruck. According to People, on Dukes' third birthday, Grismer and the other firefighters threw him a party at the station. In fact, they've become a kind of surrogate family for Dukes and his mother in New York, since his father and three siblings are still back in Hawaii. His mother made it clear that Dukes has always been a fan of the fire department. She said, "we were at my husband's fire station every Sunday." Getting to know this fire department so far from home must be, in some way, comforting.
Dukes' mother spoke about the department's generosity. According to TODAY, she said they "brought us meals at the hospital, they've given us rides in the firetrucks, they've hosted us for holidays… They've been amazing. We have these people that are now like our family that we wouldn't have met otherwise."
Now Dukes feels a connection to the city, especially the FDNY. His mother said, "Every time we see a fire truck, he goes, 'Yeah, boys!'" She added that "three firehouses on the Upper East Side now know Trucker." While Dukes started as a big fan of the firefighters, it seems now that they've become big fans of him.
Even New York Fire Commissioner Daniel A. Nigro wanted to do something for the little boy. As a special recognition, he offered to swear Dukes in as a firefighter (an honorary one). This, of course, has been Dukes' dream for some time, and the FDNY are excited to make it come true. "I think [Trucker] was just born a firefighter," said his mother. After May 31, he'll have the credentials to prove it.
To learn more about Dukes and his journey to becoming New York's youngest fireman, visit TeamTrucker.org.