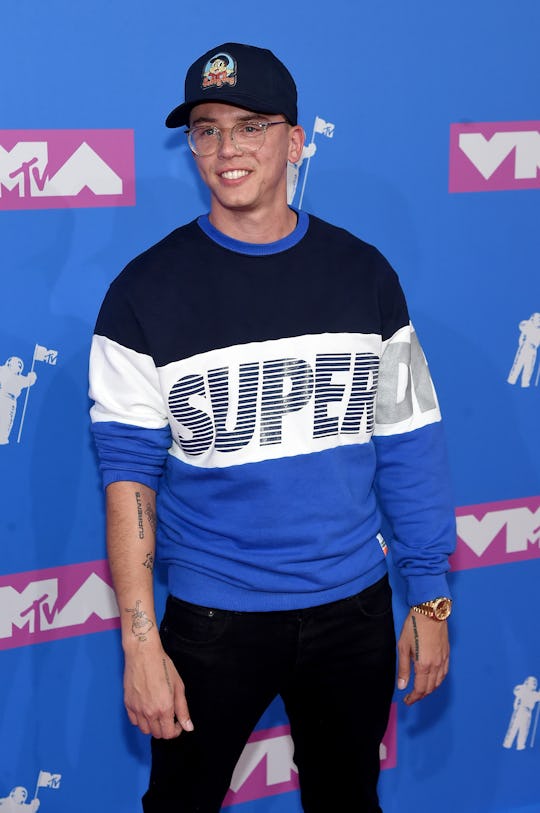 Jamie McCarthy/Getty Images Entertainment/Getty Images
Logic's Performance At The 2018 VMAs Sent A Powerful Message
The MTV Video Music Awards are always a little unpredictable. Fans never know what statements celebrities will make when they have the opportunity to do so on a platform as big as the VMAs. And the 2018 VMAs were no exception when two performers — Logic and Ryan Tedder — used their opportunity to make a powerful statement. Seriously, Logic's performance at the 2018 VMAs was incredibly powerful, with him and Tedder using the opportunity to state that all families belong together, taking aim at the Trump administration's immigration policies.
Logic and Tedder joined forces at this year's VMAs to perform his new single "One Day" for the first time ever, according to People. But this performance was even more inspirational as they took the opportunity to bring up a very pertinent topic in the United States right now: immigration.
Not only did the performance highlight Logic and Tedder's incredible collaboration, but it also featured dozens of children behind him wearing shirts stating "we are all human beings." Everything from Logic's shirt that said "F— the wall," to the dozens of children joined behind him, to the song's lyrics made an impact. And people on Twitter took note.
At the end of the powerful performance, after dozens and dozens of kids filled up Radio City Music Hall and joined Logic on stage, a curtain slid up to reveal those kids "reuniting" with their parents, clearly referring to the many kids currently separated from their parents at the border, according to HuffPost. What's more, the kids behind Logic were the children of immigrant leaders from three organizations — United We Dream, Make The Road New York, and Women Belong — that are currently fighting to reunite families and put an end to the separation altogether.
Having these powerful people behind Logic clearly got the point across — everyone is a human being and human beings deserved to be treated like human beings, no matter where they were born. They deserve to be treated with love, kindness, and respect.
The lyrics for "One Day" are just as powerful as this statement made on stage tonight. Even though they don't necessarily focus on immigration or reuniting families, the song is about people having dreams, according to Genius. "This one is for anyone with a dream!!" Logic tweeted ahead of the song's debut. Dreams come in all shapes and sizes — and everyone deserves the opportunity to see their dreams come true. They deserve to be united with their families, happy together.
If people tuned in to the 2017 VMAs last year, then they know that Logic isn't afraid to use his platform for good. Last year, Logic performed his song "1-800-273-8255" with Alessia Cara and Khalid, according to Billboard, which is about suicide awareness — the song's title is the national suicide hotline. While he performed the song, he was joined on stage by suicide loss and attempt survivors wearing a shirt with the hotline's number on it. This performance did more than just bring attention to suicide — the national suicide hotline experienced a 50 percent increase in calls after the performance, according to Billboard.
With that kind of impact made last year, one can only hope that his performance carries the same kind of weight this year. No one deserves to be separated from their family and Logic's performance made that even more clear. Everyone is a human being, no matter where they come from.