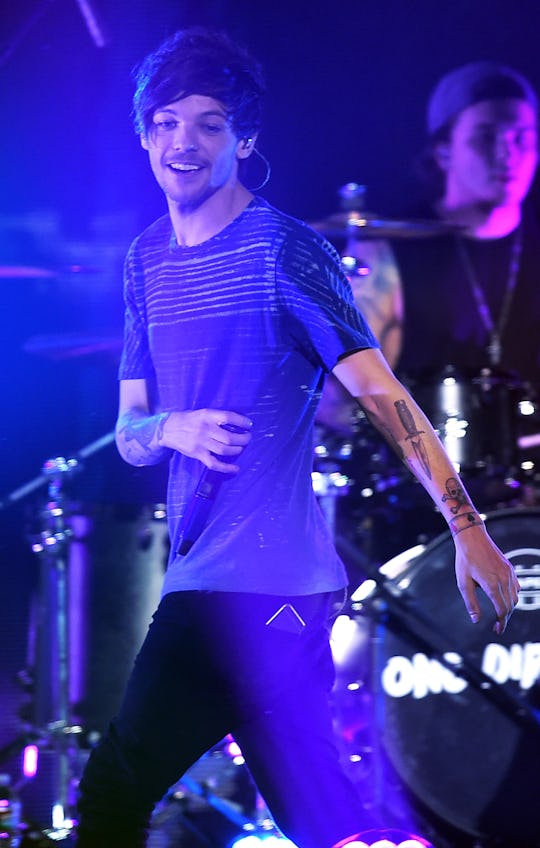 Kevin Winter/Getty Images Entertainment
Louis Tomlinson's Shares First Photo Of His Son & It's Clear He's Smitten
One Direction singer Louis Tomlinson warmed fans hears after the news that One Direction is splitting up with news that his son, Freddie, was born last week. Finally, Tomlinson shared the first photo of his son on Wednesday night with the adorable caption "Meet my little lad, Freddie," according to E! Online. The Instagram photo also marked the first time Tomlinson revealed his son's name, so fans were rightfully excited.
Tomlinson confirmed rumors that he would be a father in July. Around that time he also bought a $15 million home for ex-girlfriend and mother-to-be Briana Jungwirth, a 24-year-old stylist based in Los Angeles, according to Hollywood Life. Though the two aren't together anymore, Tomlinson has repeatedly said he plans to be a very hands-on dad, and it's clear he's sticking to that promise.
On the day of Freddie's birth, Tomlinson tweeted "I'm pleased to say my baby son was born yesterday :) He is healthy and pretty amazing :) I'm very happy!!," according to E! Online.
A source told Hollywood Life in July that he reportedly also hired full-time security for Freddie and Jungwirth:
Louis is the first member of One Direction to have a baby. He's pulling out all the stops.
Another source told Hollywood Life recently that Tomlinson has visited the house he bought for Jungwirth every day since Freddie's birth. The source said that Tomlinson has been involved in Freddie's life in every way he can:
Louis is taking his role as dad very seriously. He's been super involved from the get go. He's very hands-on, changing diapers, holding and rocking little Freddie. Louis couldn't be happier.
Having a child has got to be quite the change for the 24-year-old pop star, but it's clear he's more than happy to take on the challenge of fatherhood.