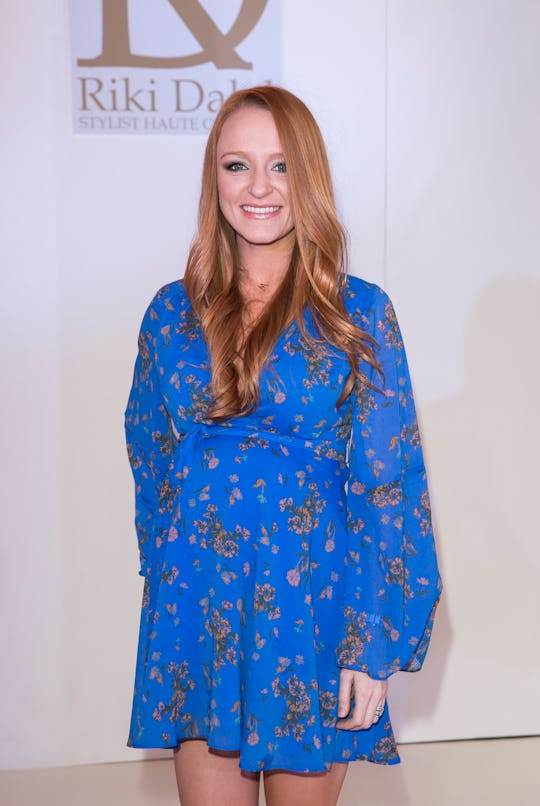 John Phillips/Getty Images Entertainment/Getty Images
This Maci Bookout Instagram Is So Relatable
As one of the original young women featured on the MTV hit Teen Moms, fans have watched Maci Bookout go through her fair share of ups and downs. Breakups, babies, a marriage, and managing a whirlwind of emotions and responsibilities as a young mother have kept the now 25-year-old busy over the past few years and have earned her millions of fans. Now, as a mother of three children, she's busier than ever. Maci Bookout's most recent mom Instagram is something every parent can relate to, and shows us that little Maci is growing up, and into motherhood, right in front of our eyes.
Maci just gave birth to her third child on May 31, a little boy named Maverick Reed. It's her second baby with husband Taylor McKinney, according to US Weekly. She has a son, Bentley, who is 7 years old, with her ex, Ryan Edwards. Her middle daughter, Jayde is just over 1 year old, US Weekly reported. That means Maci has two babies under 2 years old at the moment. One baby under 2 will keep a parent on their toes, but two of them is a whole different ballgame. Which is why this image Bookout shared on Instagram that shows just how crazy motherhood can be is the kind of honesty we've come to know and love from the teen mom fans fell in love with all those years ago.
"To my friends who wonder why I don't text them back most of the time...here is the answer," Bookout captioned the picture. You can hardly see the tiny mama behind her two babies. Take a look.
You can see her holding little Maverick with Jayde sitting on the other side of her lap looking to get in on the action. Yes, Maci definitely has plenty of babies to keep her busy.
Just a couple of months ago, on Oct. 8, Maci married fiancé and dad to Jayde and Maverick, Taylor Kinney, in a dream wedding that featured all three of her kiddos, Hollywood Life reported. Oldest son Bentley was a mini best man, and the nuptials were attended by her former flame and Bentley's dad, Ryan Edwards, according to Hollywood Life.
Bookout has come under fire recently for her parenting after or posting another photo on Instagram showing that she was drinking a beer after Maverick was born, according to MTV News. Commenters took the opportunity to shame the mom for everything from being "irresponsible" to an "alcoholic," MTV News reported.
She gave birth on May 31, and the picture of her beer glass was posted on June 16, so it doesn't really seem like any big deal at all. But such is the life of a TV teen mom.
Forget all the haters, Maci. It looks like you're killing this whole mothering gig. Hang in there, girl. You've got this.