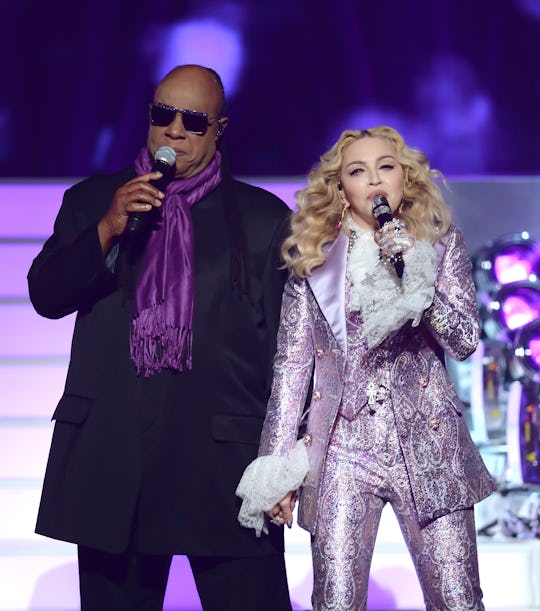 Kevin Winter/Getty
Madonna's Prince Tribute At The Billboard Music Awards Was Amazing
Tributes are probably one of the hardest performances for artists to nail. Nobody can compete with an original star, and — especially when they've only recently passed away — there are many strong emotions to take into account. Billboard announced Madonna's Prince tribute at the Billboard Music Awards earlier this month, and since then, there's been plenty of buildup from fans online. Some thought Madonna would be amazing. Other Prince fans believed that even the queen of pop couldn't hold a flame to Prince's legacy. However, it turns out Madonna's Prince tribute was something that Prince himself would likely be proud of, despite its short length.
Madonna herself didn't open the tribute, however. Instead, Questlove, the Roots' drummer, began by sharing a few words about Prince, who had inspired him ever since he was a young boy practicing the drums in his family home. "I just want to take a moment to remember the great Prince Rogers Nelson," he said. "It could be a moment of silence here in the air, but inside of our heads, it should be anything but silence."
Questlove then opened it up, introducing Madonna. The details surrounding the 57-year-old Like a Virgin singer's tribute were kept highly secret before the performance, so the anticipation level from fans was pretty high — but Madonna did not disappoint.
Prince was known for his beautiful voice, his openness and acceptance of the eccentric and the extraordinary, and his penchant for the color purple. Madonna left it all out on the floor, channeling her inner Prince, while still leaving enough space for the memory of the artist himself.
The show began with a silver-suited Madonna in a high-backed purple chair, with graphics that flowed easily behind her. She started off with "Nothing Compares 2 U," which was the perfect opener for the tribute. She was joined by Stevie Wonder for a sing-along rendition of "Purple Rain," after which Madonna thanked the Billboard crowd and Prince himself.
It was a rather short tribute, covering only two of Prince's many hits, but it was tasteful and definitely left enough room for the memory of Prince and the crowd — Prince's image lingered behind Madonna, and purple glinted everywhere, from the backdrop to Stevie Wonder's tie. The audience was also invited to sing along, and cameras panned over The Weeknd singing along.
Although the tribute could have gone way longer, it was certainly tasteful, and perhaps that "short and sweet" mark was exactly what Madonna was aiming for.