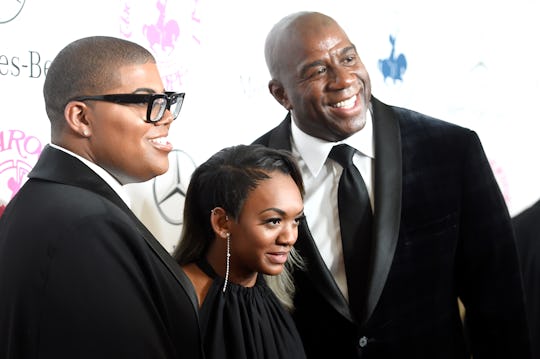 Frazer Harrison/Getty Images Entertainment/Getty Images
Magic Johnson's Advice For Parents Of LGBT Kids
There is nothing more important to a child than the support of their parents. Whether its supporting them in their various successful or unsuccessful hobbies, living out their dreams, or imagining their future — the encouragement and support from a parent is sometimes all that it takes to make life a little easier. As a parent, Magic Johnson knows how important this is for his children — and now, he's giving out some valuable advice that all parents can take to heart. When Magic Johnson says parents of LGBT kids need to show support, everyone should listen — because those kids need might not get that same level of support from the outside world.
Johnson knows a thing or two about parenting. The former basketball superstar is father to 24-year-old son EJ, who is openly gay, with wife Cookie. Johnson recently opened up on The Ellen DeGeneres Show about his son's sexuality — emphasizing how a parent's hopes and dreams for their child should be rearranged once that child begins trying to figure out who they are. For a parent, it becomes less of mission to guide their child into a certain direction and more about supporting them in whatever direction they decide to go. Johnson elaborated, telling host Ellen DeGeneres,
Well, I think it's all about you not trying to decide what your daughter or son should be no matter what you want them to become. It's all about loving them no matter who they are or what they decide to do.
Johnson continued:
When my son came out, I was so happy for him and happy for us as parents. We love him and EJ is amazing.
EJ went public with his sexual orientation in 2013, according to US Weekly, openly coming out as gay. From day one, Johnson has always stood by his son's side, telling TMZ in 2013 shortly after EJ came out, "Cookie and I love EJ and support him in every way. We're very proud of him." Later that year, according to Us Weekly, EJ spoke of how his parent's support helped him be comfortable in coming out. "When it was time to come out, I was obviously scared as most people are," EJ said on the YouTube talkshow Gwissues. "After I got all the love and support from my family, then I knew I could go out and conquer the world, I guess."
Now, four years later, Johnson is opening up about his own perspective on the matter. "You've got to support your child because there's so many people who will try to discriminate against them, so you've got to support them," he told DeGeneres. "If you don't support them, who will?"
EJ's mom, Cookie, also opened up last year about her initial struggle accepting EJ's coming out. "I tried everything," she told Oprah Winfrey in 2016. "But finally I just said to myself, 'This child is innocent. He was like this when he was a baby, it can't be wrong. It can't be wrong.'"
Johnson and his wife are right — at the end of the day, all parents can do is love and support their child. Because if nothing else, their child should feel comfortable in their own home, knowing their parents will be there for them to fall back on, no matter what might be happening at school or work.