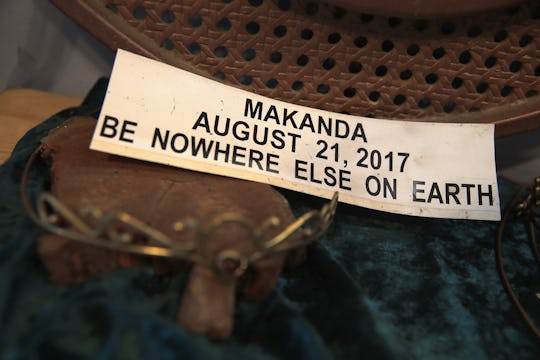 Scott Olson/Getty Images News/Getty Images
Makanda, Illinois Is *So* Ready To Be The Best Eclipse City
Monday marks the first time in nearly 40 years when Americans will have the opportunity to witness a total solar eclipse, and naturally people are super excited about it. But unfortunately, the full eclipse will only actually be able to been seen in certain areas: according to CNN, the eclipse's 70-mile-wide path of totality runs from Oregon through to South Carolina (also marking the first time in nearly a century that a total solar eclipse has crossed from coast to coast). The towns and cities located in that path have spent months gearing up for the big day, and Makanda, Illinois's eclipse preparation shows that when you're set to be one of the locations in which the full eclipse will be seen for the longest amount of time, you definitely have to expect to attract a ton of visitors.
While the honor of being the first city in the continental United States to actually witness the full eclipse will go to Lincoln City, Oregon, according to CNN, those in southern Illinois will have another claim to eclipse fame: Makanda, a small village located about a 20-minute drive from Carbondale, Illinois, is not only located in the eclipse's path, but will actually experience the longest period of darkness, at 2 minutes and 42 seconds, according to The Chicago Tribune.
Excitement over that fact has meant that Makanda, home to a population of only about 600 people, has been set to welcome thousands of additional visitors, and it's been a big boom for local businesses. For one, CBS News reported that if you were even able to book a hotel room in the vicinity of Makanda to begin with, it likely came with a steep price tag: in June, one room was running upwards of $3,800. And while options are still available on Airbnb, even just booking space to pitch a tent in a hayfield in nearby Cobden will cost you around $200 a night.
In Carbondale (pop. 26,000), as many as 60,000 people were expected to arrive over the weekend, which has been a huge deal for the city. Of the influx of visitors, Carbondale Mayor John Henry told The Chicago Tribune, "We couldn't do that in a year. Mother Nature has given us a gift." And in return for that gift, the city spent $2.3 million in upgrades: aerial power lines were removed for better visibility, sidewalks were replaced and a new bike path and parking lot were installed, and new lighting and landscaping was added to help ensure the city lives up to visitors' expectations.
There's no doubt that the prospect of the eclipse is majorly intriguing, but is it really worth going out of your way to specifically be in the path of totality, expensive hotel room and all? Actually, experts say it really is an event not to be missed. Sky & Telescope senior editor J. Kelly Beatty told CNN,
This is one of those rare events where being close is not good enough. A sun that's 99% covered is vastly different than the one that's 100% covered. Like I say to people, it's like being on a first date versus being on your wedding night.
Author and eclipse chaser David Baron agreed. Baron explained to CNN,
The general impression is, if you live somewhere with a 90 percent partial eclipse, that's good enough. Absolutely not. It's only during a total solar eclipse that you can take off your eclipse glasses, look up where the sun should be with your naked eye and see a sky you've never seen before.
Earlier this year, Baron's advice was even more emphatic. In a TEDx talk in July, he told the audience, "before you die, you owe it to yourself to experience a total solar eclipse. It is the ultimate experience of awe."
Missing out on the opportunity to see the total solar eclipse in person might leave you feeling pretty bummed today — after all, as cool as it will be to watch it online, or to partially view it in other areas of the country, it definitely sounds like those in Makanda will be in for something very special. But the good news is, Monday's eclipse won't be the only time the village will be in the direct path of a total solar eclipse, and this time, you'll have plenty of time to make arrangements. According to the Makanda, Illinois website, a second total solar eclipse will occur on April 8, 2024, and will last more than four minutes.
Even better? By the time the second eclipse comes around, the people of Makanda will have had plenty of experiencing hosting thousands of people eagerly awaiting a solar eclipse. And it seems pretty safe to assume that it'll be a totally extraordinary event.