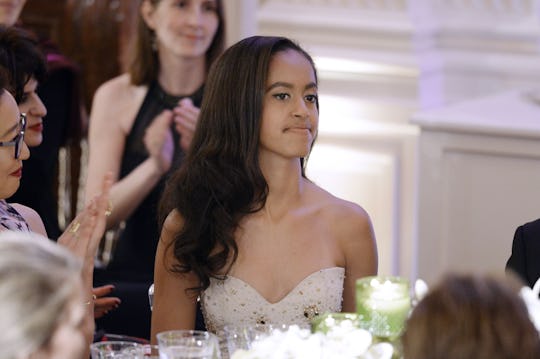 Pool/Getty Images News/Getty Images
Malia Obama Protested The Dakota Access Pipeline
It's been a week since the Obamas have left the White House and it is becoming clear that the family will definitely be missed. But while Barack and Michelle vacation, another Obama — Malia — has taken the front seat in advocating for issues. This is why it is so awesome that Malia Obama protests the Dakota Access Pipeline at Sundance — showing that the hard work and advocacy didn't just stop in the White House.
There is only really so much that is known about Malia Obama – due to the media respecting the privacy of the Obama girls during the eight years they were in the White House. Malia is smart — she was accepted into Harvard (and deferred her enrollment) and has interests in the film industry — she interned on the set of GIRLS and is currently interning with film producer Harvey Weinstein. But what is unknown is her interest in politics or certain issues. Although, it seems as if her fathers time in the White House might have rubbed off on her. Malia was seen on Monday at a protest against the Dakota Access Pipeline at the Sundance Film Festival in Park City, Utah, according to New York Daily News.
While her parents were vacationing in the sunny Palm Springs, California, Malia opted for the snowier Utah, attending the film festival on her own before beginning her internship with Weinstein, according to New York Daily News. While attending the festival, Malia also attended the DAPL protest held there — because you can take the girl out of Washington D.C. but you can't take Washington D.C. out of the girl.
Actress Shailene Woodley was there at the protest alongside Malia. She sums it up best when describing Malia's decision to join the protest, telling Democracy Now!:
It was amazing to see Malia. I saw her last night when we did the event with Chairman Dave Archambault. And it was incredible to see her there. Also, to witness a human being and a woman coming to her own outside of her family and outside of the attachments that this country has on her, but someone who's willing to participate in democracy because she chooses to, because, she recognizes, regardless of her last name, that if she doesn't choose to participate in democracy, there will be no world for her future children.
During the former president's last month in office, the army announced that they would explore alternative routes for the proposed Dakota Access Pipeline and reroute the pipeline around Native American cultural sites. Earlier this week, President Trump signed an order to resume the construction of the pipeline.
While Malia may no longer live in Washington D.C., as a private citizen she is already proving to be engaged in issues that matter to her.