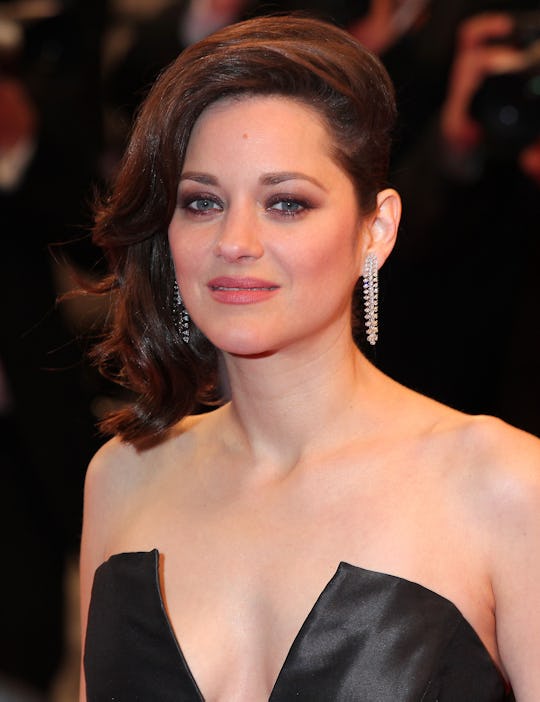 Alex B. Huckle/Getty Images Entertainment/Getty Images
Marion Cotillard Is Pregnant & The Rumor Mill Is Already Churning
Just when you thought that Angelina Jolie and Brad Pitt would finally be able to divorce in peace, it turns out that Pitt's recent co-star and fellow tabloid victim Marion Cotillard is pregnant — and now everyone is whispering down the lane about who the father is (even though they probably shouldn't be, come on). Pitt and Cotillard recently wrapped shooting for a World War II themed movie called Allied, where they play a couple with a small child. The film's release would have been interesting all by itself, but since news of Jolie and Pitt's divorce came down on Tuesday, many fans are wondering if Cotillard had anything to do with it.
Of course she didn't. And in a statement on Wednesday night, the French actress finally spoke out, celebrating her pregnancy and putting the rumors to rest. Cotillard wasn't expecting to be "swept up," as she wrote in an Instagram caption, into the Pitt-Jolie divorce news. She wrote that she is not "devastated," as some media outlets have reported, but doing just fine. Cotillard also announced that she is expecting her second child with Guillaume Canet, whom she has been dating since 2007. The couple also has a 5-year-old son, Marcel, together. So, it might be time to stop gossiping.
She really does know how to keep it classy. Cotillard added, "And to all the media and the haters who are quick to pass judgment, I sincerely wish you a swift recovery. Finally, I do very much wish that Angelina and Brad, both whom I deeply respect, will find peace in this very tumultuous moment."
Seriously, though, can we get a round of applause for knowing how to shut everyone up about someone's personal business? There could not be a better way to address the "scandal" of her working relationship with Pitt and announce the exciting news that she's going to have another baby with the "man of her life," as she called Canet in her Instagram post.
News broke on Tuesday morning that Jolie had filed for divorce from Pitt. The couple had met on the set of Mr. and Mrs. Smith in 2004 and began developing feelings for one another reportedly while he was still married to Jennifer Aniston. Pitt and Jolie were together for a decade before tying the knot in 2014, and have six children together. Jolie is asking for sole physical custody of their children, allowing Pitt visitation and legal custody, and not asking for any spousal support. Both have asked for privacy for the "health" of their family in the wake of the news.
Maybe everyone should take Cotillard's example by respecting and shutting down all the chatter.