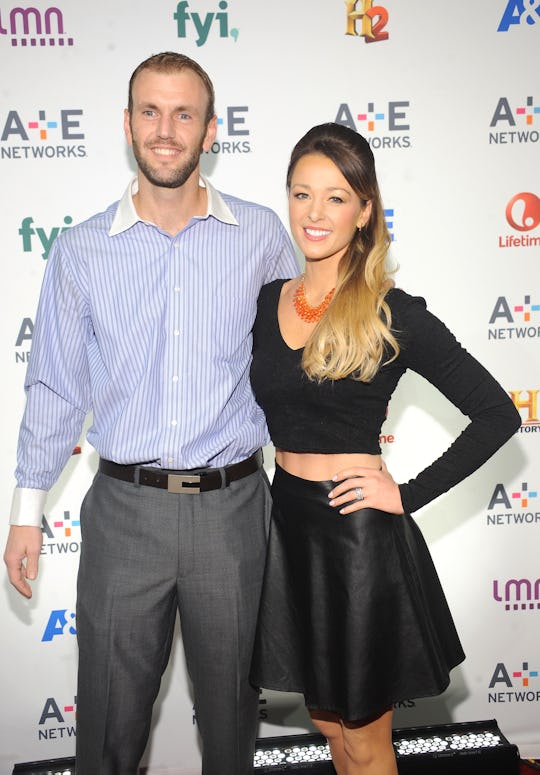 Brad Barket/Getty Images Entertainment/Getty Images
'Married At First Sight's Jamie Otis Posts A Heartbreaking Message To Her Miscarried Son
They met for the first time at the altar on their wedding day, and now two reality star parents are hoping they'll meet their son for the first time in heaven. Just a week after publicly confirming her pregnancy, Married At First Sight's Jamie Otis posted a heartbreaking message to her miscarried son on Instagram. In it, she revealed that the baby she and husband and costar Doug Hehrer had been expecting "was just too beautiful for earth" and asked fans and followers to pray for her family.
The sad, sad news that Otis and Hehrer have lost the child that would have been their first is undoubtedly one of the most challenging events the two have had to face as a couple during their oft-troubled marriage. Otis, 30, has been open about how the two have struggled to connect since their blind wedding in March 2014, telling OK! Magazine last year that she feared they would simply have a "TV marriage," especially because they were documenting their marriage in a reality spinoff called Married At First Sight: The First Year.
But they seemed ecstatic about the pregnancy when they confirmed it to People July 5. "It feels like we're just now truly starting our lives together," Hehrer, 35, said at the time. "It's the icing on the cake for us to be starting our family and we're absolutely over the moon."
And despite any marital issues the two may have had, Otis has nevertheless been enthusiastic about starting a family with Hehrer — although he initially wasn't, as she told OK! Magazine during the same interview. "He's pushing off having a baby because our marriage is so rocky," she said in November. "I really want a family… and pop these kids out as fast as possible, but I'm not expecting."
Instead, they couple decided to complete a "pre-baby bucket list" of activities like skydiving and swimming with great white sharks (no big deal) before having a baby. They must have ticked those goals off, because judging by their statements to media and social media posts before the miscarriage, they really were ready for a baby.
In one post after the public announcement, Otis shared two side-by-photos. In one, she pulled her shirt over her stomach to reveal her bump. In the other, the shirt covers any sign that she's pregnant. And she was clear about which one she preferred:
Now I look pregnant, now I don't. Amazing how clothes can hide a baby bump...Anything That hides my baby bump I'm throwing away!😝 I am SO EXCITED to have my itty bitty baby bump! I'm walking around FLAUNTING this baby belly!❤️
Considering how hard Otis and Hehrer seem to have worked to get their relationship to a place where they were comfortable growing their family, the loss of their child is devastating. Whether the moment ends up bringing them even closer as they grieve together or causes more stress is still yet to be seen. But whenever they're ready to try again, they'll surely have a beautiful family.