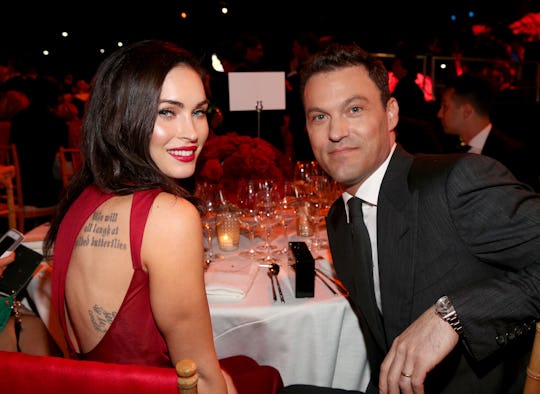 Jonathan Leibson/Getty Images Entertainment/Getty Images
Megan Fox Posts Baby Photo Of Son Journey & The Wait Was Worth It
It seems like just yesterday, actress Megan Fox announced that she was pregnant with her third child with her husband, actor Bryan Austin Green. But it wasn't just yesterday — in fact, Fox's newest son was born just two months ago. Despite having an August birth, photos of baby Journey had never been released — until today, when Megan Fox posted a baby photo of Journey on her Instagram — and it was well worth the wait. The baby is seriously so stinkin' cute.
"Don't Stop Believin'" that Fox and Green can create another perfect looking child — because they definitely did with Journey (see what I did there?). But honestly, let's be real — Fox and Green are both pretty perfect looking themselves. Journey joined his big brothers, 4-year-old Noah and 2-year-old Bodhi, on Aug. 4, adding to Fox and Green's growing family.
In the photo, posted to Fox's Instagram account on Wednesday, which featured the two of them laying down side by side, both mother and baby are absolutely glowing. The resemblance between Fox and her little one is also striking — it's clear that Journey has his mother's gorgeous eyes and is already a spitting image of his parents at just two months old.
Seriously, the baby is so cute it could be a diaper model.
Fox first "announced" her pregnancy on the red carpet at CinemaCon in April, showing up in a dress which showed off her baby bump. This pregnancy came as a surprise to most fans, as Fox had not let on that she was pregnant prior to the red carpet event. She later teased on Instagram that the father of her third child was not any of her former co-stars — Shia Labeouf, Will Arnett, and Jake Johnson — which led fans to assume who the father was (her husband, of course).
In June, Fox joked on a Jimmy Kimmel Live appearance that she had heard messages from baby Journey while he was in the womb:
You don't hear an audible voice but you hear messages, if you're open to it. For instance, this baby wanted me to live somewhere else so we're moving to a whole different place in Los Angeles because I feel like that's where this baby wants to be raised.
While Journey is such a cute baby, Fox and Green's marriage has taken a journey of its own in the year prior to his arrival. After five years of marriage, according to People, Fox had reportedly filed for divorce from Green in August 2015. Less than one year later, in April 2016, Fox had announced that she was expecting her third child with Green and the two have since reportedly reconciled, according to People.
While Fox and Journey might not be communicating telepathically anymore, it is clear that they have an incredibly special bond. And for fans of the adorable family everywhere, waiting two months to see the first photo of Journey and his mom, together, was well worth it.