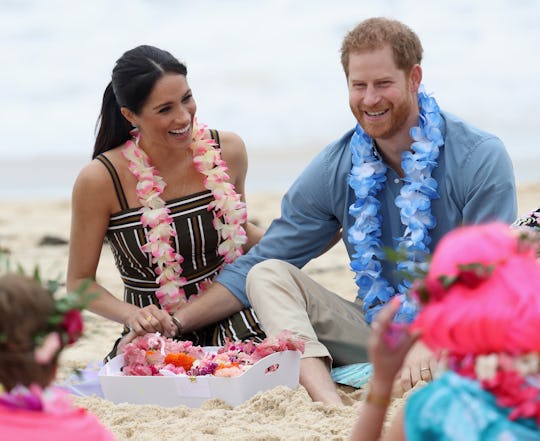 Chris Jackson/Getty Images Entertainment/Getty Images
Meghan Markle & Prince Harry's Baby Could Have Some Very Famous Godparents
Being a godparent is kind of a big deal. I have one godchild and I can't help feeling as though my gift expectation is slightly higher than anyone else's, although I suspect that's not really what my official role is meant to be. From what I remember, a godparent is responsible for the spiritual upbringing of their godchild. I was clearly a bad choice, and some people can't afford to make such bad choices. Like the royal family, for example. Meghan Markle and Prince Harry's baby could have some famous godparents, and they seem like solid choices in both the spiritual and gift departments.
The Duke and Duchess of Sussex are expecting their first child in the spring of 2019, and they're already preparing for the little one's arrival. It was announced last week, according to Harper's Bazaar, that they would be moving out of Nottingham Cottage, their 2-bedroom home on the grounds of Kensington Palace, and heading for the 10-bedroom Frogmore Cottage on Windsor Estate. Which is the royal version of moving to the 'burbs once you have a kid.
As they get ready to move into their new home once renovations have been completed, it seems they might have already made one decision about their baby. According to the Daily Mail, the couple could be considering George and Amal Clooney as godparents for the new little royal.
Although the royal couple have apparently not yet asked the Clooneys, a family member of the actor told the Daily Mail that he considers himself a "shoo-in" to be chosen. Which might seem rather out-of-the-blue to some people, considering the only public contact the two couples appear to have had are when the actor and his human rights lawyer wife were guests at the wedding of Markle and Prince Harry in May. But it seems the relationship goes much deeper than that.
As InStyle previously reported, a source close to the couple told the Daily Mail, "Amal and Meghan have been close for years, and Harry and George have become buddies because of that. They're much closer than the headlines let on."
While some of you might have assumed the connection would be between the two actors (I know I did), E! News reported back in August that Amal Clooney and Markle bonded fiercely over their newfound, overwhelming fame. While Prince Harry and Clooney met at a charity event a few years ago, a palace source reportedly told E! News that Amal and Meghan spent time hanging out together in Italy over the summer. "Amal and Meghan are much more friendly with each other and talk more regularly than George and Harry do," the source told the outlet. "They have become really close friends."
Neither couple has publicly confirmed the possibility that the Clooneys would act as godparents to the new baby, but it would certainly make sense. They welcomed their own set of twins last year, after all, and they have a home in the United Kingdom, according to Hello! Magazine, which would make things easier. Plus, they are both humanitarians like the Duke and Duchess of Sussex, which means they could definitely be relied upon to help with the baby's spiritual upbringing.
Besides, if the Clooneys end up being rotten godparents (highly, highly unlikely), the royal baby will likely have at least three or four more to choose from, as is the royal tradition. So what do they have to lose?
This first-time mom wants to have a home birth, but is she ready? Watch how a doula supports a military mom who's determined to have a home birth in Episode One of Romper's Doula Diaries, Season Two, below. Visit Bustle Digital Group's YouTube page for the next three episodes, launching every Monday starting November 26.