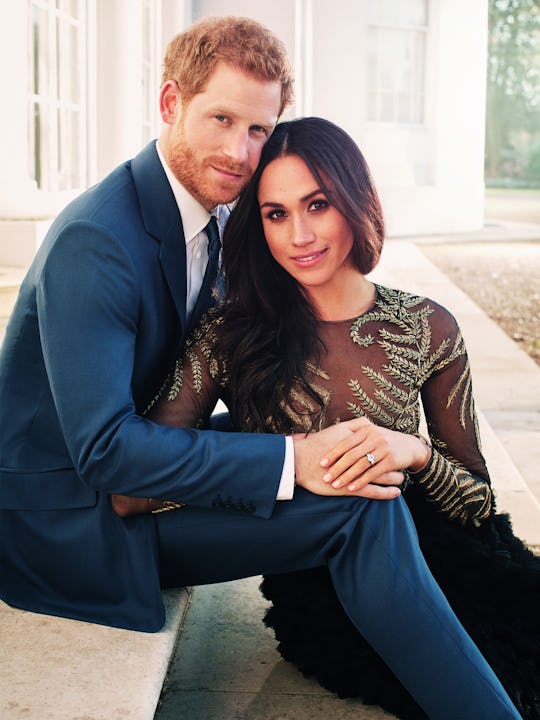 Handout/Getty Images Entertainment/Getty Images
Meghan Markle Will Reportedly "Break" This Royal Wedding Tradition For A Sweet Reason
The English monarchy is known for its strict adherence to rules and traditions, but the latest round of royals seems to be a little more lax. For example, Meghan Markle will reportedly "break" another royal tradition at her wedding this upcoming spring, and the reason is so sweet. From showing a little more skin to dining with the Queen before actually marrying into the family, Markle clearly isn't afraid to shake things up a bit.
British weddings usually include speeches by the groom, the father of the bride, and the best man, according to Business Insider. Brides do not commonly make a speech at the reception. But Markle, who is well known for her feminism and push for equality, is reportedly planning to make a speech on the big day, according to Business Insider. Her father, however, will not be speaking as he is reportedly a very private person; though he is expected to walk Markle down the aisle, the outlet reported.
The bride-to-be plans to use her speaking time to make a heartfelt tribute to her new husband, Prince Harry, and the rest of the royal family, an anonymous source told The Sunday Times. "She wants to have the chance to thank her husband and everyone who has supported them," the source told the publication. "Harry thinks it's a great idea." How sweet is that?
Markle and Prince Harry are planning their May 19 wedding themselves. A source told Us Weekly that the two are much more involved in the wedding than most royal couples are, saying:
Harry has never been one to follow instructions and both he and Meghan are extremely independent individuals. I wouldn't imagine for one second that they plan to sit back and be told what to do — and they won't … Their romance feels refreshingly modern and I think that's something that everyone at Kensington Palace has felt incredibly excited by.
The pair is looking to make it "reflect their characters and personalities," according to The Telegraph, meaning it will be a "toned down affair." That means a bit of deviation from the norm, including Markle's speech and the likely omission of the bride's promise to "obey" the groom in her vows. Kate Middleton left that bit out of her vows in 2011, as The Telegraph reported, and Markle will probably do the same.
She has plenty of experience with public speaking and has made it clear that equality is at the top of her list of priorities. At a 2015 speech on International Women's Day to the United Nations, as reported by The Independent, Markle expressed her pride in being a women and a feminist, saying, "A wife is equal to her husband."
Reports also state that Markle plans to have a maid of honor at the wedding, according to Us Weekly, and while the name of her choice hasn't been released yet, the simple fact that she plans to include one at all is a break from tradition. British weddings usually have chief bridesmaids instead of maids of honor, but Markle is including a few American touches to the wedding.
The coming royal wedding will not break tradition entirely, though. Sources told the Daily Mail that they will follow tradition when it comes to seating, invitations, and the guest list, but other aspects will be tweaked to better suit their style and personalities.
Markle has already "broken" a few royal traditions since starting her relationship with Prince Harry. One unspoken tradition that she has broken a few times is her tendency to wear her hair in a messy bun. Other royal women, such as Middleton, tend to opt for hair down during royal outings, but Markle is nothing if not unique.
The soon-to-be royal broke tradition once again when she dined with the royal family over Christmas. Typically, only legal members of the family are permitted to attend the festivities, but an exception was made for Markle, perhaps because her family was out of the country. A source close to the couple told the Daily Express that Markle and Prince Harry had grown too close to spend the holidays separately. "Now they are engaged it was unthinkable that they would be apart for Christmas. The royal family have fully welcomed Meghan into the fold," the source said, according to E! News.
A preference for up-dos and a desire to be around her fiancé over the holidays sound like nice enough reasons to break tradition to me. As for her speech at the wedding, who can blame her for wanting to express her love and gratitude for her new family, in front of those she loves?
Check out Romper's new video series, Romper's Doula Diaries:
Watch full episodes of Romper's Doula Diaries on Facebook Watch.