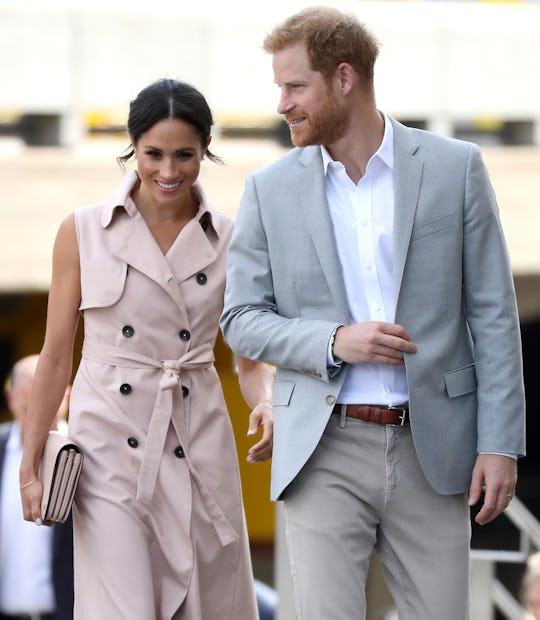 Chris Jackson/Getty Images Entertainment/Getty Images
Here's How Meghan Markle Will Be Spending Her First Birthday With Prince Harry As A Royal
Meghan Markle may be celebrating her birthday this weekend, but her royal duties still need to be attended to. After her May nuptials to Prince Harry, the world has watched with awe as the American actress transitions to a life of literal royalty. Her new role has changed how she has to conduct a lot of her life. Be that as it is, Meghan Markle's first birthday as a royal will actually be spent at another wedding, as Prince Harry will be serving as the best man in his childhood friend's wedding.
On Monday, People reported that Markle will be spending Aug. 4 — her 37th birthday — celebrating the wedding of Prince Harry's childhood friend Charlie Van Straubenzee and his fiancée Daisy Jenks. News of the weekend plans came via Tim Rooke, a royal family photographer, on Twitter. "Unfortunately I will be missing the wedding of Charlie Van Straubenzee and Daisy Jenks where Prince Harry will be best man on August 4th in Churt Surrey as I will be on the beach," he wrote on Twitter. "Can't do everything!"
This won't be the first wedding that the couple will have attended after their own ceremony this spring, and it's also far from the first time Markle has stepped out for her royal duties. Vanity Fair reported that prior to and immediately upon return from their honeymoon, the couple has been seen at numerous events.
Though the royals are allowed to have birthday celebrations, they are typically kept away from the public eye, which is why you don't see too many photos of Prince William and Duchess Kate's kids blowing out the candles. As for the adults, while they are allowed to toast to another year well spent, parties are typically very small, if they happen at all. (However, New Idea reported that Prince George did have a dinosaur-themed birthday party last year, while Hello! Magazine reported that Princess Charlotte also had a party.)
However, there are other ways the royal family commemorates birthdays. For starters, the young kids usually have professional photos taken and shared by Kensington Palace on their birthdays. At the same time, when older members of the royal family celebrate a milestone year, such as Prince Charles' 70th, the royals are actually hosting a series of events in honor of his birthday in 2018, as People reported. The Queen also celebrates her birthday twice in a year, according to TIME. First she commemorates the actual day of her birth, but then celebrates in combination with Trooping the Colour, which has been a tradition for hundreds of years.
But as far as Markle's celebrations go this year, it might be limited to a few sweet wedding guest photos (though it's too early to tell for sure, of course). Granted, the Duchess of Sussex doesn't quite seem like the type to make a big fuss about her own birthday, and she's already said that she's eager to commit her life to public service.
"I've never wanted to be a lady who lunches, I've always wanted to be a woman who works. And this type of work is what feeds my soul and fuels my purpose," Town & Country reported she wrote on her blog, The Tig, back in 2016.
With all that said, we'll have to wait and see if she turns out to be a lady who doesn't birthday party, either.