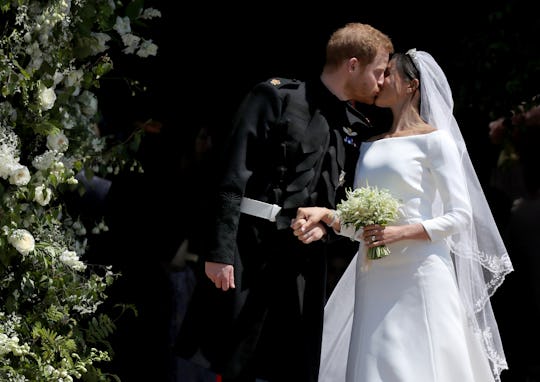 WPA Pool/Getty Images Entertainment/Getty Images
Meghan Markle's Makeup Artist Recalls Heartfelt Details About The Royal Wedding
Most fans of the royal family were glued to their televisions or computer screens on May 19 to witness Meghan Markle and Prince Harry trade vows at St George's Chapel, Windsor Castle. The moment was magical, to put it mildly, and many will never forget the special day when the couple officially became the Duke and Duchess of Sussex. Still, as much as fans enjoyed watching the wedding, many didn't feel satisfied with the lack of personal details about the highly-publicized event. The royals did an excellent job of keeping intimate details about the day hush-hush, after all. The good news? Meghan Markle's makeup artist just dished about the wedding, and his description of the big day is so satisfying. From the vibe of the church to Meghan's first look when she entered the chapel, the makeup artist's recollection of the nuptials is beyond beautiful.
Meghan chose Daniel Martin, a makeup artist and close friend, to bring her wedding day look to life. Martin opened up about Meghan's wedding makeup goals to Glamour a few days after the nuptials (natural all the way), and he also penned a sweet note on Instagram highlighting their close friendship. "My dearest Meghan, Thank you from the bottom of my heart for allowing me to be a part of such a memorable day, not only in your life, but in history," Martin wrote, according to Instagram. "It was just like old times playing dress up and I'm looking forward to our next play dates together. Cheers to love my friend!!!" Aww.
Although Martin has remained fairly mum since the Instagram message and interview with Glamour, he revealed intimate and new details about the wedding on Monday. Praise be.
"You literally felt the energy and the happiness and the love," Martin recalled about the vibe, Martin told People. "You could just hear the wave of cheers coming into the church."
But wait — that's not all. Martin also dished on the moment Meghan entered the chapel. "And then she came walking in. It was almost like an eruption, because I was trying so hard to hold my tears in," Martin added. "And then she walked in and she had this giant smile on her face. And then I just lost it." Yep, I have a pretty good feeling Martin wasn't the only attendee to lose it upon witnessing Meghan's grand entrance. In fact, I doubt there was a dry eye in the house.
Martin also went on to describe the impact of Meghan — a biracial woman— marrying into the royal family. "Meghan created this new brand of fairytale because everyone who has a similarity to her now feels accepted," Martin explained. Well-said.
Overall, it sounds like Martin really gets Meghan, a sentiment further evidenced by Harry's remark to him following the nuptials. "I know exactly what she does and doesn't like. After the ceremony, Harry kept saying thank you," Martin confided to InStyle. "He was thanking me for making her look like herself."
Considering Meghan got the opportunity to be herself on her wedding day, in part because of Martin's help, it's really no surprise St George's Chapel, Windsor Castle was overflowing with emotion on May 19. There's nothing more special than witnessing a person reach an important milestone in an authentic way, right? And I bet Meghan's smile — as Martin described in his interview — reflected her happiness about staying true to her own wants and needs that day. How touching.
Although some people might argue Martin should have kept these personal details to himself, I think there's a good chance he received the OK from Meghan before he spoke out. Either way, it's nice fans get to enjoy these new and beautiful details about Meghan's special day.