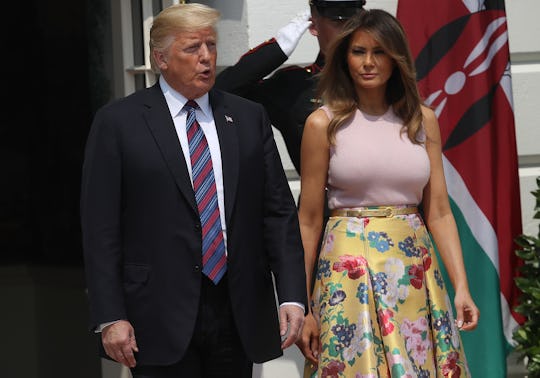 Win McNamee/Getty Images News/Getty Images
Melania & Donald Trump Will Visit Pittsburgh Following The Tragic Synagogue Shooting
On Saturday, Oct. 27, 11 people were killed at the Tree of Life Synagogue when a gunman opened fire. The horrific attack was an apparent anti-Semitic hate crime. In the wake of yet another mass shooting in the United States, the Squirrel Hill neighborhood is still in a state of shock as they mourn the innocent lives that were taken and attempt to put the shattered spirits of their faith community back to together. And, as is often expected after something tragic happens, the president will make a visit. On Monday, Oct. 29, it was announced that Melania and Donald Trump will visit Pittsburgh following the tragic Tree of Life Synagogue shooting.
As USA Today reported, Donald and Melania Trump are set to visit Pittsburgh on Tuesday, Oct. 30. Press Secretary Sarah Sanders made the announcement at a White House briefing on Monday afternoon. "The president cherishes the American Jewish community for everything it stands for and contributes to our country," Sanders said. "He adores Jewish-Americans as part of his own family. The President is the grandfather of several Jewish grandchildren. His daughter is a Jewish-American and his son-in-law is a descendent of Holocaust survivors." She continued:
Tomorrow, the President and First Lady will travel to Pennsylvania to express the support of the American people and grieve with the Pittsburgh community.
In response to the news at the POTUS and FLOTUS were going to be traveling to Pittsburgh, Twitter had a lot of feelings. One person wrote, "The people in Pittsburgh are suffering enough without @realDonaldTrump visiting and giving phony condolences."
Another Twitter user wrote, "The last thing Pittsburgh needs is @realDonaldTrump visiting them... either spewing disingenuous dribble or his racist hatred rhetoric."
Yet another person tweeted, "Brothers Cecil and David Rosenthal will be buried tomorrow. Donald Trump & Melania will be visiting the Pittsburgh Synagogue where the 2 brothers & 9 others were murdered. No words to express my disgust."
This backlash likely stems from a message — sent out loud and clear by Jewish leaders — saying the POTUS is not welcome in their community. Following the shooting, 11 members of the Pittsburgh affiliate of Bend the Arc: A Jewish Partnership of Justice, wrote an open letter to Trump, The Hill reported. "For the past three years your words and your policies have emboldened a growing white nationalist movement. You yourself called the murderer evil, but yesterday's violence is the direct culmination of your influence," they wrote. They continued:
President Trump, you are not welcome in Pittsburgh until you fully denounce white nationalism. Our Jewish community is not the only group you have targeted. You have also deliberately undermined the safety of people of color, Muslims, LGBTQ people, and people with disabilities. Yesterday's massacre is not the first act of terror you incited against a minority group in our country.
These 11 Jewish leaders went on to say that the POTUS isn't welcome in Pittsburg until he stops "targeting and endangering all minorities" and until he ends his "assault on immigrants and refugees." They ended their letter with, "The Torah teaches that every human being is made b'tzelem Elohim, in the image of God. This means all of us."
As USA Today reported, Trump tweeted on Saturday that "all of America is in mourning over the mass murder of Jewish Americans." He also condemned the shooting as an "evil Anti-Semitic attack is an assault on humanity." Which is a good and proper response from a president about a mass shooting.
However, by many people's standards, Trump's remarks since then have been incredibly lacking in any real compassion. "If they had protection inside, the results would have been far better. If they had some kind of protection within the temple it could have been a much better situation. They didn't," Trump said during his first non-Twitter remarks about the shooting, according to Time. He went on to say:
This is a case where if they had an armed guard inside they may have been able to stop him immediately, maybe there would have been nobody killed, except for him maybe.
Um, just no. (For the record, four armed police officers were also injured as a result of Saturday's attack.)
Despite all of this — a community that's still in the process of burying its dead, the president's victim-blaming remarks about having armed guards in places of worship, and faith leaders explicitly saying the POTUS is not welcome — it looks like President Donald Trump and First Lady Melania Trump will be paying a visit to Pittsburgh tomorrow. And not all are looking forward to their arrival.