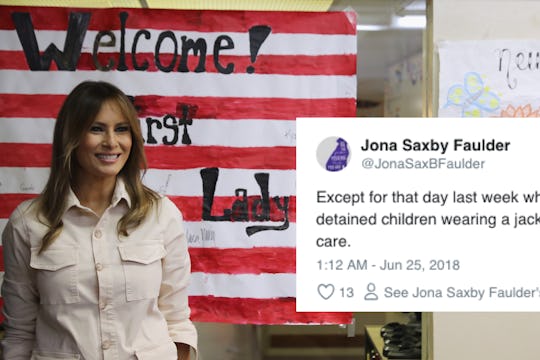 Chip Somodevilla/Getty Images News/Getty Images
Melania Trump Told Kids Kindness & Compassion Are Important, & Twitter Is Unimpressed
Following her widely-panned visit to the United States-Mexico border last week (you know, the trip where she wore a jacket that said "I REALLY DON'T CARE, DO U?"), First Lady Melania Trump has made yet another attempt to convince the country that she has compassion for children. In a short speech at the Students Against Destructive Decisions (SADD) National Conference on Sunday evening, Melania Trump told kids about the importance of traits like kindness and compassion. Ironically, these traits are ones that many critics believe she and her husband have yet to express in relation to the thousands of children separated from their parents at the border.
"Kindness, compassion, and positivity are very important traits in life. It is far easier to say nothing than it is to speak words of kindness," Melania told the audience of children and teenagers, according to a transcript of her speech on the White House website. "It is easier to judge quickly than to take time to understand. It is often easier to see a glass half-empty rather than half full."
Melania then added a piece of advice that she and Donald Trump could really afford to take. "Nevertheless, you have the power to be the positive force in so many people's lives," she continued, according to the transcript. "Show respect to each other. Treat your community like your family, and look out for one another."
The speech at the SADD conference was part of Melania's "Be Best" campaign, and the first lady told the crowd that the campaign focuses on the "well-being of children." She said, according to the White House website:
A couple weeks ago, I announced my campaign, Be Best. One of the largest pillars of my campaign is the well-being of children. I feel very strongly that it is the job of adults to provide you with the tools you need to become the best you can be in all areas of life. That is why I am here today.
OK, Melania — if you really do care about the well-being of children, and you believe that it is the job of adults to help them succeed, wouldn't you try to convince your husband who is literally the President of the United States to DO SOMETHING about the treatment of immigrants at the border?
Unsurprisingly, Melania's SADD speech was not well-received on the internet. Many took to Twitter to point out the hypocrisy in her words:
Others referenced the poorly-chosen jacket Melania wore when visiting shelters near the border last week:
In case you need a refresher on the events of last week, here's exactly why people are unimpressed by Melania's SADD speech. Over the past few months, an increasing number (several thousand) of undocumented immigrants were separated from their children upon illegally crossing the border to the United States, thanks to a policy instated by Attorney General Jeff Sessions in April, NPR reported. Innocent children have been detained in shelters of various conditions and foster homes, and the president and his administration do not seem to be doing anything to reconnect the families.
Last Wednesday, Trump signed an executive order that will detain undocumented families crossing the border together instead of apart, Vox reported. (His order does nothing to help the thousands of children who have already been displaced from their parents, and it still forces innocent children to be detained.) The day after Trump signed the order, Melania made two stops in McAllen, Texas, where she met with officials at shelters that housed only a few children who had been separated from their parents, TIME reported. (Most of the children at one of the two shelters she visited crossed the border as unaccompanied minors, ABC News reported.) Many criticized Melania's visit because she did not actually appear to help any separated children.
Melania's speech at the SADD conference may say "I care about all children," but in between the lines, her complicity in the family border separation crisis is clear.
If you'd like to help the families who have been separated at the border, click here.