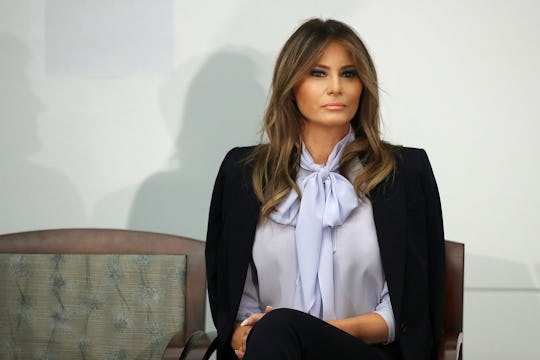 Chip Somodevilla/Getty Images News/Getty Images
Here's How Melania Trump Supposedly Responded To The Brett Kavanaugh Allegations
President Donald Trump angered many people on Tuesday night when he mocked Dr. Christine Blasey Ford's testimony about the sexual assault allegations she made against his Supreme Court nominee, Brett Kavanaugh. And given Trump's hurtful remarks about Ford's character, it's reasonable that countless citizens are clamoring to know what first lady Melania Trump's response to the Brett Kavanaugh allegations has been.
While Trump spent Tuesday night attacking Ford's credibility at a rally in Mississippi, according to CBS News, Melania enjoyed the first day of her solo trip to Africa. After an overnight flight from Washington, D.C., to the West African nation of Ghana, Melania traveled to the Greater Accra Regional Hospital to meet with staff members, according to U.S. News & World Report. Melania also held babies and handed out gifts bearing the words "Be Best," a reference to her personal campaign that aims to teach kids the "importance of social, emotional, and physical health," the White House's website states.
Melania continued her tour on Wednesday, visiting a 17th Century slave trading outpost in Ghana, according to the Daily Mail. "I will never forget (the) incredible experience and the stories I heard," Melania said about the experience, according to The New York Times. "The dungeons that I saw, it's really something that people should see and experience."
Melania also tweeted:
Day two in #Ghana was so impactful. My visit to Cape Coast castle was a solemn reminder of a time in our history that should never be forgotten. Thank you to Chief Osabarima Kwesi Atta & the chieftains for the warm welcome & cultural ceremony. #FLOTUSinAfrica2018
Considering Melania has been quite busy with her first international solo tour as first lady, it's not too surprising she hasn't released an official statement about Ford's accusations against Kavanaugh. But what is surprising? The fact that South Carolina Sen. Lindsey Graham, a Republican, decided to speak out publicly about Melania's supposed commentary behind-the-scenes.
During an interview with Fox & Friends on Friday morning, Graham rehashed a conversation with Trump in which the president supposedly praised his performance during the Kavanaugh and Ford hearings, and he also relayed what Melania allegedly thought about his display. He said, according to Newsweek:
He was very complimentary, and he said Melania said that please tell me that she was very proud of the fact that I pushed back and stood up for this good man. And that meant a lot to me that the first lady felt that way.
Of course, the public can't know what Melania really thinks until she addresses it herself. But if Melania did say these things to Trump, it's not earth-shattering information. Melania consistently stands by her husband no matter what he does, even when it defies logic. Case in point: Melania defended Trump in June 2017 when he called called Morning Joe co-host Mika Brzezinski "low I.Q. Crazy Mika," according to The Hill, despite the fact that her supposed plight as first lady is bullying prevention.
"As the first lady has stated publicly in the past, when her husband gets attacked, he will punch back 10 times harder," Melania Trump's spokeswoman Stephanie Grisham said in a statement at the time, according to Fortune.
Some people, however, believe Melania paid homage to Monday's national walkout in support of sexual violence survivors when she wore a black dress to Trump's speech at the United Nations General Assembly Hall in New York City, as People reported. Supporters of the walkout were encouraged to wear black in solidarity, according to ELLE.
It's probably more likely, however, that the dress choice was a coincidence. If Melania did want to support sexual violence survivors awareness, she could have found a more obvious way to do so.
All in all, Melania's supposed support of Kavanaugh shouldn't come as a shock to those who follow her closely. Not only does Melania tend to take her husband's side on every issue (minus the LeBron James controversy), but she has not addressed the ongoing problem of sexual violence in America.