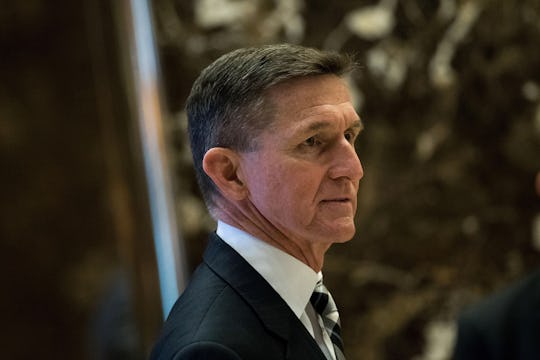 Drew Angerer/Getty Images News/Getty Images
Michael Flynn Is A Milo Yiannopoulos Fan & That's Really Not A Good Thing
Whenever I get to thinking about President-elect Donald Trump and his new administration, one word always comes to mind: bromance. There seem to be a whole lot of bromances on a slow simmer these days. Trump and Putin (allegedly, of course). Trump and former Breitbart CEO Steve Bannon. But there seems to be a new bromance in town that's raising some eyebrows even among this fist-bumping group of dudes — and that's Michael Flynn and Milo Yiannopoulos. Flynn is reportedly a big fan of Yiannopuolos, and that might not be the best news ever.
Since Trump tapped him as his national security advisor, retired Lt. Gen. Flynn, he has faced harsh criticism for what many perceive to be questionable social media encounters with members of the "alt-right," a far right, hyper-conservative, and largely white nationalist group that often uses social media platforms to spread its message and perpetuate dangerous conspiracy theories. Flynn praised one of these higher profile members of the "alt-right," Breitbart tech editor Milo Yiannopoulos, during a recent speech at the Young America's Foundation Conference at Trump's Washington hotel, saying,
I was with Dinesh D'Souza last night, and the other, for the young audience here, for the young ones here, I mentioned it to a couple of you, I was also with Milo Yiannopoulos. See, a lot of people in here won't know who he is. I tag him on Twitter, you know, because he's phenomenal individual, and I'm mentioning him tonight because he spoke alongside of me last night to another group of folks.
So who exactly is this "phenomenal individual?" Well, British journalist Yiannopoulos has made a name for himself by inciting racism and promoting white nationalism, like setting up a scholarship fund solely for white men and getting permanently banned from Twitter for reportedly encouraging his followers to Tweet racist and sexist remarks about Ghostbusters actress Leslie Jones. He has also compared the Black Lives Matter movement to the Ku Klux Klan. Yiannopolous has been open about his disdain for feminists and compared rape to Harry Potter (because apparently they are "both fantasy").
And what does Michael Flynn, the man who will soon be instrumental to the protection of ALL American citizens, have to say about such a man? At the same conference at Trump's Washington hotel, Flynn added:
He's definitely, he's one of the most different, one of the most brave people that I've ever met. We have different views on different things, but he is deeply, deeply conservative in his views about this country. So he is going around this country at the undergraduates, at our colleges and our universities, and he's fighting for you, for all of the people in here.
Lt. Gen. Flynn, please. Think of all the men out there who would be more deserving of your bromance attentions. Either of the Ryans, Gosling or Reynolds, would be great. Vice President Joe Biden. Tom Hanks... who doesn't love Tom Hanks?
But Milo Yiannopolous? No.