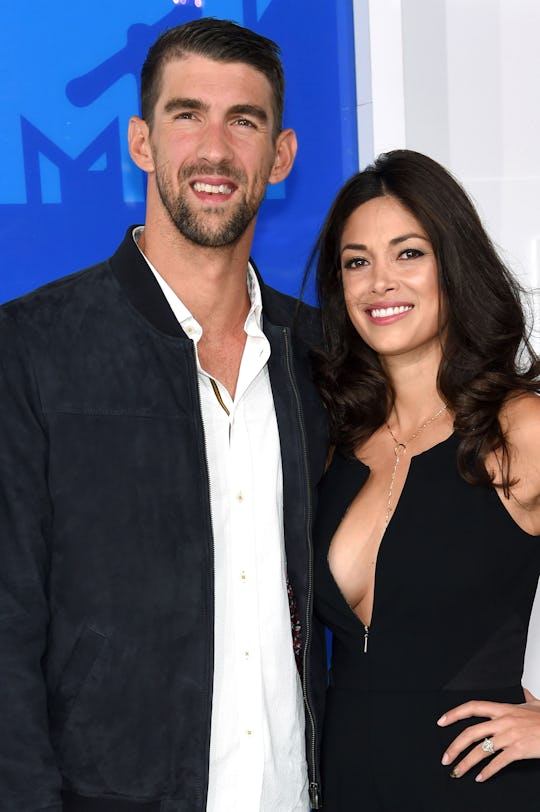 Jamie McCarthy/Getty Images Entertainment/Getty Images
Michael Phelps Reportedly Got Married & He Kept It A Secret From His Fans For A While
Olympic gold medalist Michael Phelps might have lived out his Olympic swimming career in the public for millions to watch (and cheer on during the Olympics), but his personal life tends to be more private. During the 2016 Rio Olympics, everyone was busy referring to Phelps' partner, Nicole Johnson, as his fiancé. But according to TMZ, Michael Phelps reportedly got married as far back as June — two whole months before the Rio Olympics. How's that for a surprise wedding?
TMZ was the first to report the couple's alleged nuptials after obtaining a marriage certificate reportedly belonging to Johnson and Phelps. According to TMZ, they married on June 13 in Paradise Valley, Arizona where the couple currently resides. Johnson, a former Miss California, did not let on that she was married at all throughout the Rio Olympics in August. During the Olympics, Johnson gave a few details to Access Hollywood about the couple's eventual wedding. "We have a date," Johnson said. "It'll be small and intimate for the wedding, and then we're throwing a massive bash for everyone in the states."
If what TMZ is reporting is true, then the marriage was definitely small and intimate — just like Johnson said — although it took place a little earlier than she let on. Phelps' representatives did not respond to Romper's request for comment.
However, Johnson might have let a big detail slip in that same Access Hollywood interview. "So I think I have the wedding in order, and now it's just on to the party and fun." Could that have been a major hint about the wedding part already being taken care of because the couple had already gotten married two months prior? Unfortunately, until either Johnson or Phelps confirm the marriage, that is a question that fans won't know the answer to.
According to TMZ, this photo was taken and posted to Johnson's Instagram account on the same day as Phelps' and Johnson's reported marriage:
"Such a memorable night with my lil fambam" Johnson captioned the photo. The couple looks incredibly happy and at ease in the photo — if this was taken on their reported wedding night, then they both look fantastic dressed in casual sportswear for their nuptials (although, of course... they could have changed prior to the photo being taken. But wouldn't a sportswear-themed wedding feel apropos?).
The couple first got engaged on Feb. 15, 2015 after dating on-and-off for eight years, according to Us Weekly. Phelps and Johnson then welcomed son Boomer in May of this year — just one month before the date of their alleged wedding. Since the Olympics, Johnson has been teasing on her Instagram account about the wedding, posting this photo of herself and her wedding dress designer, Julie Vino, to her Instagram.
Johnson and Phelps' reported marriage definitely came as a surprise to fans — according to TMZ, just last week Phelps denied that he and Johnson were married during a Facebook Live broadcast. Now that Phelps has retired from swimming, maybe an acting career is in his future, because he's done a fantastic job at keeping quiet about the marriage.
Congratulations to the happy couple!