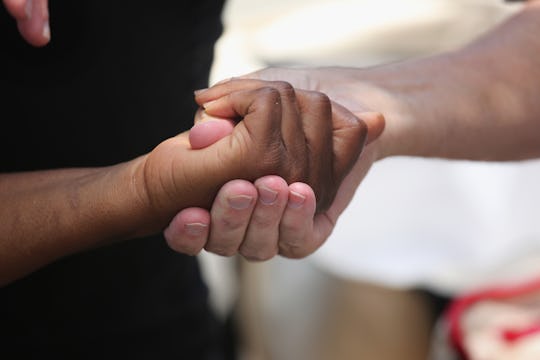 John Moore/Getty Images News/Getty Images
Michael Slager & Dylann Roof Trials Begin, As The City Pleads For Peace
It's going to be a long few months for Charleston and everyone in America watching the Michael Slager and Dylann Roof trials, which are both underway and happening just across the street from each other. Slager, the ex-police officer who shot Walter Scott after pulling him over for a busted brake light in April 2015, is facing up to 30 years in prison and jury selection for Slager's trial began on Monday. Jury selection for Roof's trial began at the very end of September and is still ongoing. Roof is facing the death penalty if he's convicted on all 33 charges for shooting and killing nine parishioners at the Emanuel African Methodist Episcopal Church in June 2015.
As you can imagine, tensions are high.
The city is planning on tightening security and taking extra measures to ensure the safety of Charleston residents as the trials are literally going to be held across the street from one another and are expected to draw crowds, memorials, and possibly protests. Charleston Police Chief Greg Mullen told the Charleston City Paper on Friday that the department is establishing a "safety zone" around the downtown courthouses, starting this week. They won't divert traffic, but there will be an increased police presence, along with coordinating officers from state and federal agencies.
Even without outsiders, the trials are expected to be attended by tons of people. In Roof's case, for example, there are three dedicated courtrooms — one for family members of his victims, one for people with government identification and the press, and then one for the public. The trial will also be streamed on a closed circuit television. But Charleston is hopeful that they can maintain the peace. Charleston Mayor John Tecklenburg told the Associated Press that the trials are a chance to "show the world a community that is united in the belief that love conquers hate, a belief in the justice system that it can work, a belief in our community that we will come together and stay together no matter."
Just to add a little fuel to the fire, there's also a trial beginning this week in Ohio for a similar incident. Police officer Ray Tensing is being charged with murder and voluntary manslaughter for the July 2015 shooting of Sam DuBose, who was pulled over for a missing license plate. That jury has already been selected and there have been peaceful protests, according to WCPO, a Cincinnati news affiliate.
There wasn't much civil unrest immediately following either of these incidents in 2015. But a lot has changed since last year as more alleged racially motivated killings have made headlines. The issues in question in both trials have been brought into the national conversation thanks in part to the presidential election and primary cycle, so the trials will likely be followed by Americans all over the country as they continue throughout the rest of the year.
According to The Washington Post, there have been 800 people killed by police officers in 2016. Of those, 194 have been black and 44 have been unarmed. Most recently, the shootings of Terrance Carter, Philando Castile, and Alton Sterling sparked protests following the release of video footage very similar to the video of Walter Scott in Charleston. Depending on the verdict in the Slager and Roof trials, it's reasonable to believe that people would gather in the city to show their support for the victims.
Between Roof's and Slager's trials for shooting unarmed African American civilians, racial tensions are bound to be high. The most Charleston can do is hope for peace and justice for the victims. But it's going to be a long winter in South Carolina.