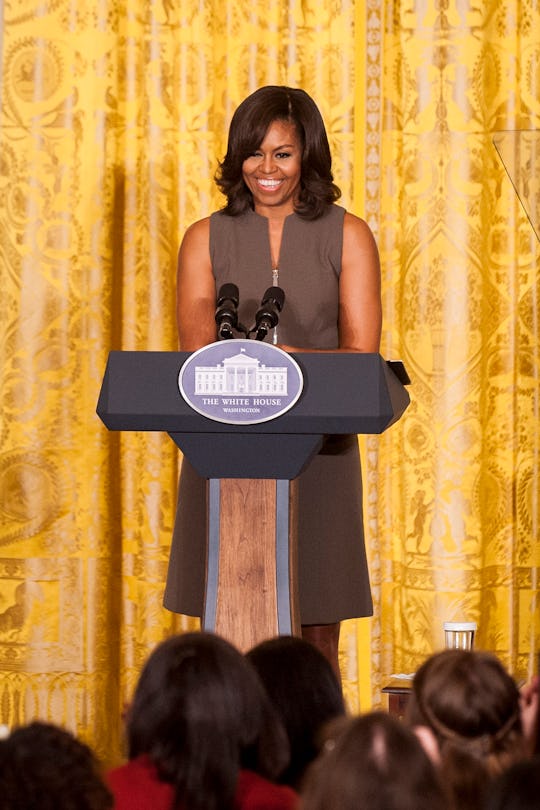 Pete Marovich/Getty Images News/Getty Images
Michelle Obama's Let's Move Initiative Reminded Me My Kid's Health Is Worth A Fight Over Vegetables
Michelle Obama hasn't always lived in the White House. But listening to her speak at the White House on Tuesday, it was hard for me to imagine this famous first lady at home doing dishes in her sweat pants. But, as she told the very personal story behind her Let's Move campaign, aimed at improving nutrition for America's kids, it was easy to see that she's trying to help every family tackle the same problems she faced parenting her own daughters, Shasha and Malia.
From her Harvard Law degree and impressive resume to her biceps, Obama is someone I've always admired deeply. So it was a total thrill to be invited to the White House to learn more about her Let's Move! initiative and hear some of her own stories of the struggles of motherhood. Because, honestly, it's sometimes difficult to remember that Obama is a mother, just like me, and just like millions of other women.
Here's the deal: Obama wants to improve the nutrition and health for American kids. The goal sounds simple enough, but the reality of changing the way Americans eat, according to the many experts — doctors, dietitians, and policy makers I heard speak on Tuesday — is a complicated and very big task. But the goal began for Obama right inside her Chicago home, after a visit to the pediatrician's office.
Obama explained that her pediatrician caught her completely off guard when he asked about what the family was eating at home. It was the moment that made her stop and take a hard look at what she was feeding her family.
At the time, she was working as vice president of the University of Chicago Medical Center and, as she said, "Barack was off running for some office... ." That left her at home with two little girls, who had busy schedules of their own. The first lady confessed that, like so many busy parents, drive-thrus and microwave meals became the go-to option. And her family's health was being impacted.
"So I went home and did some homework," Obama said.
She made reasonable changes. She tried to cook more at home — a chicken for Sunday dinner, pasta and a salad during the week. And she banned processed, sugary treats from the house. She also cut back on desserts, which she says — like in most families — had become a "birthright" in her family.
Sounds good, right? But even as I listened to her perfectly reasonable family food makeover plan, I thought about how unhappy my own daughter would be if I ditched all of her favorite treats. She loves potato chips, fruit gummies, and cupcakes so much. I thought about fighting over food with my 5-year-old again and sighed, already defeated.
Because, as Michelle admitted, it is a fight, but it's one parents have to take on because poor nutrition really can hurt kids. It's killing them, in fact. So, in the world of "pick your battles," Obama argued, correctly I think, that nutrition is a battle worth fighting. And it's a fight parents can win with small changes.
She said she vividly remembers looking down at her own daughters' "sad faces" as she packed apple slices in their lunch boxes. But, she's the mother, and she made the choice to buy only healthy foods for her girls, and that's what they were going to eat. The end.
And, guess what? It worked like a charm. In fact, on their next doctor appointment, the doctor said the girls made incredible progress, and he asked her detailed questions about how the Obamas turned it all around so quickly. Then he started to share with Obama the shocking trends of obesity and diabetes he was seeing in his own practice.
When she became first lady, Obama had to decide what she was going to work on during her husband's time in office. Helping other parents tackle the same mistakes she made — and overcame — in helping to feed her own children seemed like a natural fit. And, since she planted the White House garden in 2009, Obama really has helped transform the way many people view kids' nutrition.
From getting healthier options on restaurant menus, to school gardens and healthier cafeteria lunches, the impact of Let's Move! is everywhere you look. It's amazing what one mom can accomplish when she sees the real effects of health and unhealthy eating in children.
Hearing Michelle Obama tell me exactly why she thinks it's so important to feed our kids healthier foods inspired me to put my foot down and cut the junk out of my own daughter's diet. Sure, she may give me what I will now and forever call the "Sasha and Malia sad face" when she doesn't get her fruit gummies, but, thanks to the first lady, I'm reminded that the food she puts in her body matters, and that her health and nutrition are worth fighting for.