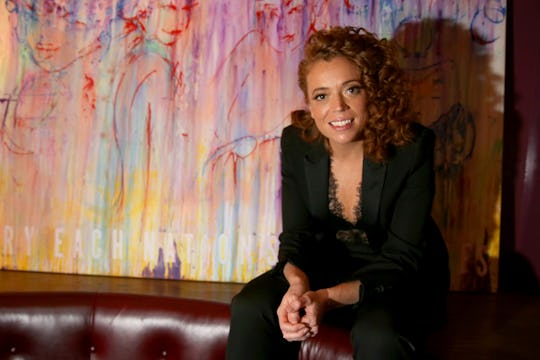 Tasos Katopodis/Getty Images Entertainment/Getty Images
Michelle Wolf Is Not Apologizing For Her WHCD Jokes & Her Response To The Backlash Is A Must-Read
Over the weekend, comedian Michelle Wolf delivered a brutal set at the White House Correspondents' Dinner that people are still talking about. In an interview with Terri Gross on NPR's "Fresh Air" program that is set to air on Tuesday, as People reported, Michelle Wolf responded to the WHCD roast backlash with the same amount of confidence. The radio released some of the interview on late Monday afternoon, including some of Wolf's response to the criticism.
Basically, if she had to do it again, in exactly the same way, she would. " I mean, I'm honestly — I wouldn't change a single word that I said. I'm very happy with what I said, and I'm glad I stuck to my guns," Wolf said, according to People.
The White House Correspondents Dinner, which honors reporters who cover the White House, always has a comedian guest to roast people in attendance. This was the second year that President Donald Trump skipped the event, although in the past other presidents have also gotten up and delivered their own rebuttal roast. President Barack Obama, for example, became known for his pretty decent jokes at the dinners. Stephen Colbert's 2006 roast of George W. Bush is also a memorable one. It's all supposed to be in good fun, but the subject matter is always serious.
This year, though, felt a little different without the sitting president in attendance. White House Press Secretary Sarah Huckabee Sanders was seated on the dais, though, and other Trump spokespeople, such as Kellyanne Conway, were in the room. So Wolf took aim at them, among other things, including the POTUS.
Wolf, like other comedians have done in the past, made scathing jokes about the media, Democrats, sexual assault, and Trump's alleged fortunes. Then, she turned on some of the women who work for Trump, in what many people thought was an unfair and sexist move.
Wolf went right in on Sanders, saying that she "burns lies" and then uses the ashes to make a "perfect smokey eye" and adding that she reminded the comedian of Aunt Lydia from The Handmaid's Tale (the character is a woman who is complicit in helping an oppressive regime sustain itself, as New York's Vulture noted). Wolf added that Sanders is like an "Uncle Tom" but for white women.
People thought Wolf went too far with those particular jokes, which they interpreted as an attack on women in the Trump administration. The White House Correspondents' Association, which had invited the comedian in the first place, issued a statement apologizing for Wolf's remarks at the dinner. There are some very angry people out there, who are even considering changing the format of the entire event in the coming years, as Fox News reported. All because of some jokes about the Trump administration and it's rocky relationship with the truth, which is well documented, as reported by The Washington Post.
Although the comedian expected some backlash, she told Gross that she didn't think it would be this intense, she said, according to NPR:
I wasn't expecting this level, but I'm also not disappointed there's this level. I knew what I was doing going in. I wanted to do something different. I didn't want to cater to the room. I wanted to cater to the outside audience, and not betray my brand of comedy. I actually, a friend of mine who helped me write, he gave me a note before I went on which I kept with me which was, "Be true to yourself. Never apologize. Burn it to the ground."
Wolf told Gross that she thinks some people just weren't ready for her to be "mean," simply because she's a woman. She said, "I think, I don't know maybe I'm projecting this, but I think sometimes they look at a woman and they think 'Oh, she'll be nice,' and if you've seen any of my comedy you know that I don't – I'm not. I don't pull punches." Wolf added in the NPR interview:
I'm not afraid to talk about things. And I don't think they expected that from me. I think they still have preconceived notions of how women will present themselves and I don't fit in that box.
She had even said as much during her time on stage at the dinner Saturday night, ad libbing after one pretty vulgar joke, "You should have done more research before you got me to do this."
Many of the complaints about her set weren't that it was vulgar (although some did say that), but that it was sexist to attack a woman's looks, even though her jabs at Conway and Sanders had nothing to do with their looks. She insinuated that Sanders' makeup was made of lies and that she worked for an authoritarian government, but nothing about how she looked. Wolf said as much on Twitter over the weekend, and added in her conversation with Gross:
If there is two people that I actually made fun of their looks on Saturday it was Mitch McConnell and Chris Christie and no one is jumping to their defense. I made fun of Mitch McConnell's neck and I did a small jab at Chris Christie's weight and no one is jumping to their defense.
Wolf has a point there. Whatever you think about her performance, Wolf's response to all of the criticisms show that she doesn't plan on toning down her comedy for anyone. And that's definitely something to admire.