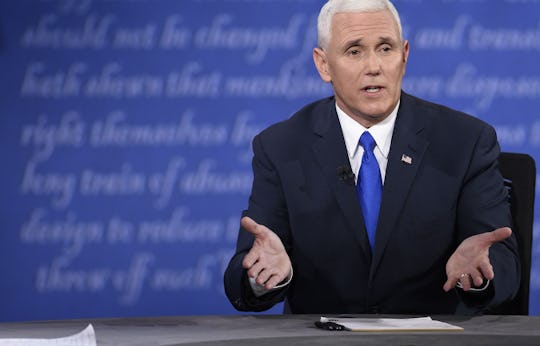 SAUL LOEB/AFP/Getty Images
Mike Pence Says Donald Trump Isn't A 'Polished Politician' & No Duh
There is no denying that Indiana Gov. Mike Pence has a little more experience than his running mate, Republican Party presidential nominee Donald Trump. This could not have been clearer in a comparison of both of their debate performances — Pence was clearer, more level headed and reasonable with his opponent and the audience than Trump was at last week's first presidential showdown. So when Pence says Donald Trump isn't a "polished politician," I'm inclined to take his word for it — because he himself appears to be one such polished politician.
No matter what political party you belong to or which candidate you back, there is no denying that Pence took his debate preparation more seriously than Trump. He not only appeared more polished than Trump, he was much less antagonistic and defensive (though, to be fair, some have argued that he may have come off that way because he barely defended his running mate's record at all). According to ABC News, Pence had spent quite a bit of time preparing for the debate in the weeks preceding, engaging in practice debates with Wisconsin Gov. Scott Walker and "brushing up" on political issues.
Hearing Pence say that Trump is not a "polished politician" was not a surprise — because that's something quite a bit of people already know. Donald Trump is a businessman and has never been a governor, a senator, a mayor, or even a city councilman. Donald Trump has never held a political position or been a politician, let alone a well-polished one.
Pence used this as a defense against Democratic vice presidential nominee Tim Kaine, telling Kaine that Trump was not "like you and Hillary Clinton." Pence is right about that too: Clinton went to work immediately for the Children's Defense Fund right after graduating from Yale Law School. Since then she has been advocating for the rights of others in politics as first lady, senator of New York, and as the Secretary of State. Kaine, for his part, was a practicing lawyer for quite a few years before becoming the governor of Virginia and then most recently, a senator. So yes: Both Clinton and Kaine have the resumes of "polished politicians."
Even though Donald Trump is not a "polished politician," however, he has earned the position of the Republican Party presidential nominee. That hasn't done much to refine his image. In fact, this is not the first time that one of Trump's close advisors supporters has referred to him as unpolished: In August, one of Trump's fiercest followers, former New York City mayor Rudy Giuliani, referred to Trump with the exact same phrasing as Pence. According to The Hill, Guiliani told radio host John Catsimatidis: "It may be that he may make more insensitive statements because he's not a polished politician."
If Pence and Guiliani are using this as a defense, then what will it take for Trump to become a polished politician? What will it take for Trump to smooth his rough edges, which seem to constantly hurt the people in his path? What kind of training will it take for Trump to become polished? Will Trump automatically become a polished politician on Nov. 8 when the ballots in the presidential election are counted?
There is no denying that Clinton and Kaine are more refined in their behavior than Trump. However, it is about time that people stop using that as an excuse for Trump's behavior and start whipping him into "polished" shape — and fast. While Pence himself is inarguably polished and prepared for the White House side-car, it's Donald Trump that might become president in a few short weeks — not Mike Pence.