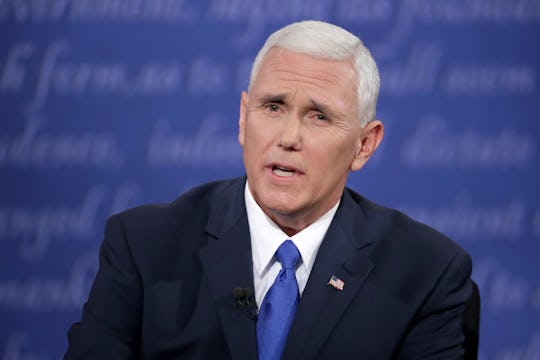 Chip Somodevilla/Getty Images News/Getty Images
Mike Pence's Syria Plan Is Different From Donald Trump's, & That Was Totally Unexpected
Whether you're a fan of Indiana Gov. Mike Pence, you have to admit it can't really be all that easy to be sharing a ticket with someone like Republican presidential candidate Donald Trump. Trump, after all, is famous for his off-the-cuff (and often controversial) remarks and positions, which Pence is then expected to defend and agree with. And for the most part, he does — something which Democratic vice presidential candidate and Virginia Sen. Tim Kaine repeatedly took him to task for during their televised debate Tuesday night. But during the broadcast, voters learned that Mike Pence's Syria plan is different from Donald Trump's in some really significant ways, and honestly, that's not only surprising, but also kind of confusing, too.
Since being announced as Trump's running mate, Pence has mostly appeared happy to support Trump's policies and reassure the American public that he is going to be a fantastic president. But based on his commentary last night, it's become clear that the two men appear to disagree on at least one important thing: Russia's involvement in Syria. Trump has been widely criticized for his optimistic views about Russian president Vladimir Putin, and by extension, the role that Russia is playing in the Syrian civil war. But according to NBC News, Pence doesn't look very favorably on Putin at all, going as far as to say that "the provocations by Russia [in Syria] need to be met with American strength," and that "the United States of America should be prepared to use military force" against the regime of Syrian president Bashar al-Assad, which Russia supports.
Pence's hard-lined approach to Russia and Syria wouldn't necessarily be so unexpected except for the fact that Trump has remained almost neutral so far, previously saying that he'd prefer to wait and "see what happens," before endorsing any kind of concrete plan, according to The Telegraph. While Trump has been happy to speak about his desire to "knock the hell out of" ISIS in Syria, according to The Washington Post, he's specifically avoided discussing his position on Assad and the Syrian civil war.
And when it comes to Putin, many of Trump's comments have even been favorable; according to The Telegraph, he recently referred to Putin's policy in Syria as "a wonderful thing," and that "in terms of leadership, [Putin's] getting an A, and our president is not doing so well." Under Putin, Russia has been supporting Assad's Syrian government for the past year, launching air strikes and bombings that are estimated to have killed almost 4,000 civilians, so far, according to BBC News.
Trump, on the other hand, has been hesitant even to criticize Assad. According to Vox, Trump told MSNBC in May that he would "have stayed out of Syria and wouldn't have fought so much for Assad, against Assad," and that "[America has] bigger problems than Assad." And, according to The Telegraph, Trump has even praised Assad in the past, saying, "I'm looking at Assad and saying, 'Maybe he's better than the kind of people that we're supposed to be backing'."
In February, a UN inquiry found that the Assad regime was responsible for "massive and systematized violence," and that it was responsible for far more deaths than ISIS militants or other jihadist groups, according to The Independent. The inquiry also accused Assad of committing "the crimes against humanity of extermination; murder; rape or other forms of sexual violence; torture; imprisonment; enforced disappearance and other inhuman acts."
According to The Washington Post, Pence's plan for Syria includes "establishing safe zones" — aka a no-fly zone — with the help of American allies, which is a much more aggressive plan than anything Trump has backed so far. And yet, instituting a no-fly zone in Syria would be risky, and would be a huge military operation that could further escalate the violence and possibly lead to "an armed clash between American and Russian or Syrian forces," according to The Huffington Post. Perhaps most interestingly though, while Trump has not said he supports a no-fly zone in Syria, Democratic presidential nominee Hillary Clinton has actually said that she does, which, strangely, suggests that Pence might actually have more in common with Clinton's plan for Syria than he does with Trump's, at least based on the candidates' public commentary. (In contrast, President Obama has not been in favor of a no-fly zone in Syria, according to NBC News.)
Ultimately though, it seems like the question now becomes, how much will Pence's opinions about Syria actually influence Trump's policy if he were to become president? It's hard to tell, especially with someone like Trump who can be unpredictable, and who historically hasn't always been specific or forthcoming with his actual plans for the country. As the The Huffington Post noted, it's possible that Trump intends on following Pence's lead on domestic and foreign policy issues. But it's also possible that Pence's plan will fall on deaf ears if Trump disagrees — or even that Pence only opted to take such a hard-line stance to appease Republican voters who were unhappy about Trump's noncommittal approach to Syria and Russia. Either way, it looks as though we'll only find out for sure if Trump gets elected in November, with Pence at his side.