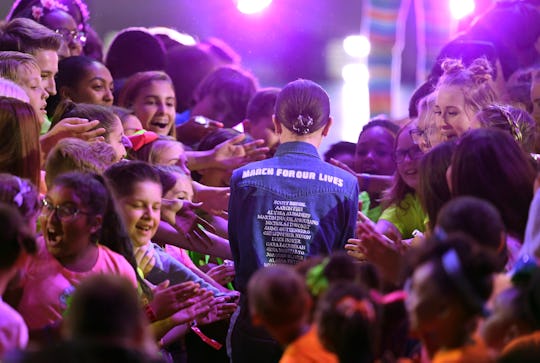 Kevin Winter/Getty Images Entertainment/Getty Images
Here's How Millie Bobby Brown Honored Victims Of Gun Violence At The Kids' Choice Awards
People from all over the world took to the streets on Saturday to call for an end to gun violence. At every single March For Our Lives, students, teachers, survivors, allies, and even celebrities came together to ask politicians to do something to make schools safer and end this violent epidemic. And while some celebrities couldn't be in Washington, D.C. marching alongside these activists, they still did their part — like Stranger Things star Millie Bobby Brown. Although the 14-year-old actress wasn't in the nation's capital this weekend, Brown's jacket at the Nickelodeon Kid's Choice Awards showed that support and advocacy doesn't have to end at the marches — it can, and should, extend far beyond that.
Brown made denim on denim cool again with her outfit that she wore on the orange carpet. From the front, Brown's outfit looked like your every day ensemble — a denim shirt tucked into a pair of jeans — which is appropriate on the Kid's Choice Awards orange carpet (hey, this isn't the Emmy Awards). But if you looked a bit closer at her outfit, you would see that there was nothing average about it.
On the front of her jacket, the phrase "Never Again" was written over one pocket. And on the back of her jacket, according to E! News, were the names of every single person who was killed during the school shooting at Marjory Stoneman Douglas High School in Parkland, Florida this past Valentine's Day with the words "March For Our Lives" written at the top.
Her outfit spoke for itself on the orange carpet and made an even bigger statement when Brown went to accept her award for Favorite TV Actress for her role as Eleven in Netflix's Stranger Things. Her acceptance speech, where she dedicated her award to the victims of the Stoneman Douglas shooting, according to Vulture, is something that everyone needs to see. Brown said in her speech:
I'm privileged to have a voice that can be heard, one I can use to hopefully make a positive difference and help influence change. So there's an amazing support, love, and kindness in this room right now and I want to encourage everyone to embrace it and to pass it on. For the angels among us, your spirit lives on. This is for you.
Brown's speech (and super cool outfit) wasn't the only time that the March For Our Lives was addressed during the Kid's Choice Awards. The show's host, John Cena, according to Vulture, also made a point to address the hundreds of thousands of students who marched earlier that day. "I just want to take a moment to celebrate what kids across the nation accomplished today," Cena said, according to Vulture. "Change is only possible when we all work together. And it's so inspiring to see kids take charge! That is the true spirit of Nickelodeon and the Kid's Choice Awards."
At just 14 years old, that is exactly what Brown did during her appearance — she took charge and made a powerful statement on the red carpet and on stage. The advocacy for making a change to gun laws in the United States shouldn't stop on the streets once the marches were over. It should continue everywhere until change is made — from the red carpet of an awards show for kids to schools across the globe.
Back when you were a kid, the Nickelodeon Kid's Choice Awards was akin to the Oscars. It was the one time a year where you got to see your favorite celebrities and bands perform all on the same stage. It was also the only award show where you could watch people get slimed on stage, which is always super exciting. Kids still care and get excited about all of these things, but they're also so aware of the world around them, which is why Brown's appearance at the award's show matters. Teens need more role models like Brown and her speech at the Kid's Choice Awards demonstrates why.
Check out Romper's new video series, Bearing The Motherload, where disagreeing parents from different sides of an issue sit down with a mediator and talk about how to support (and not judge) each other's parenting perspectives. New episodes air Mondays on Facebook.