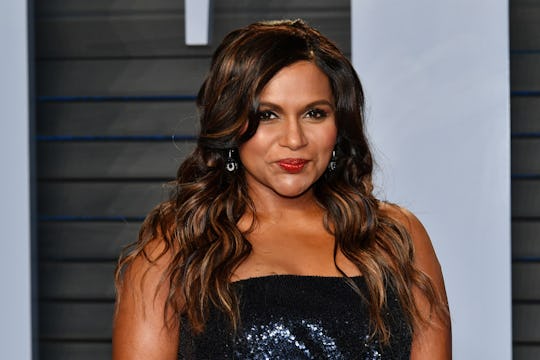 Dia Dipasupil/Getty Images Entertainment/Getty Images
Mindy Kaling's Latest Update On Being A Mom To Baby Katherine Is So Sweet & So Relatable
Mindy Kaling has been incredibly busy. The hilarious actress and writer not only stars in the new film out this weekend, A Wrinkle In Time, but she also created and stars in a new TV series, Champions. On top of all of this, she's learning the ins and outs of parenting after giving birth to her daughter this past December. Considering how much she has going on, it's so exciting that Kaling is opening up about being a mom to her daughter, Katherine, in between her jam-packed schedule.
Until recently, Kaling hasn't revealed too much about her baby girl. If you recall, just last year, Oprah Winfrey was the first person to confirm that Kaling was pregnant (Kaling later confirmed the news and forgave Oprah a few months later in an interview on The Ellen Show). But now that Katherine arrived into the world nearly three months ago, Kaling is opening up a little bit more about baby Katherine and sharing the sweetest tidbits of information about what it's like to be a mom to her daughter.
The new mom has already shared photos of her baby's glamorous stroller and the cutest track suit you've ever seen, and now, in a recent interview with People, Kaling gave fans another glimpse into what life as a parent is like so far and how little Katherine is doing. "I love looking at her and figuring out who she's going to be," Kaling told the publication. "It's so much fun."
One could only hope that Katherine inherits her mom's sense of humor, because the only thing better than having The Mindy Project star make people laugh would be to have a mini Mindy Kaling cracking the most hilarious, relatable jokes one day.
Becoming a parent is a life-changing experience and Kaling also recently revealed how becoming a mom has changed her perspective on many things, like bringing babies to parties or on airplanes. During an appearance on The Late Show with Stephen Colbert last week, according to People, she said:
It's really profound and strange. I was not a kid person at all. I was the person, if you had a baby at a party, I would go up to them and shake their hand and be like, "Hello." So I didn't know [or] understand how to be around babies. ... I was on planes [and] when babies would cry, I would be mad at the families. Now I'm like, "Let them cry, let them do whatever they want. They can sit on me and poop if they want." Now I know more.
And when it comes to babies and airplanes, Kaling reached out to one of her closest confidents for advice. Kaling told People that her Wrinkle In Time co-star (and mom of three) Reese Witherspoon had been super helpful with providing advice about the little things that many new parents might have overlooked, like how to travel through an international airport with a newborn. Kaling explained to People:
Over text message Reese [Witherspoon] talked me through how to carry an infant car seat on the airplane. We're doing so much international travel and she was giving me really practical advice on how to carry a screaming baby on the plane. The most useful!
In the months since giving birth, from what Kaling has said, it sounds like she is slowly figuring out this whole parenting thing with life with a newborn. For example, at the premiere of A Wrinkle In Time, Kaling revealed to Entertainment Tonight that Katherine loves not sleeping — because... babies — and one of the best feelings is seeing her baby girl smile first thing in the morning. But she also said that she's not yet ready to make an appearance on the red carpet just yet.
Kaling's decision to not show off Katherine on social media is a personal one. In an interview with TODAY earlier this month, Kaling revealed that she's too protective of her daughter and too anxious of a mother to have any photos of Katherine on the internet. "I'm keeping her under wraps for now," Kaling said. "I would kill someone who said anything about her."
For now, when it comes to her daughter, fans have to take Kaling's word on how great her daughter is. And judging from her most recent interview with People, that shouldn't be too hard. "I'm waking up every three hours to feed her and it's a lot," Kaling said. "But when I'm like 'Oh my gosh, this is overwhelming,' she throws me a huge smile. It's the best part of my day."
Now that Kaling has opened up about motherhood and her daughter a little bit more, it's only more evident that she's a terrific mom and little Katherine sounds like the sweetest bundle of joy.
Check out Romper's new video series, Bearing The Motherload, where disagreeing parents from different sides of an issue sit down with a mediator and talk about how to support (and not judge) each other's parenting perspectives. New episodes air Mondays on Facebook.