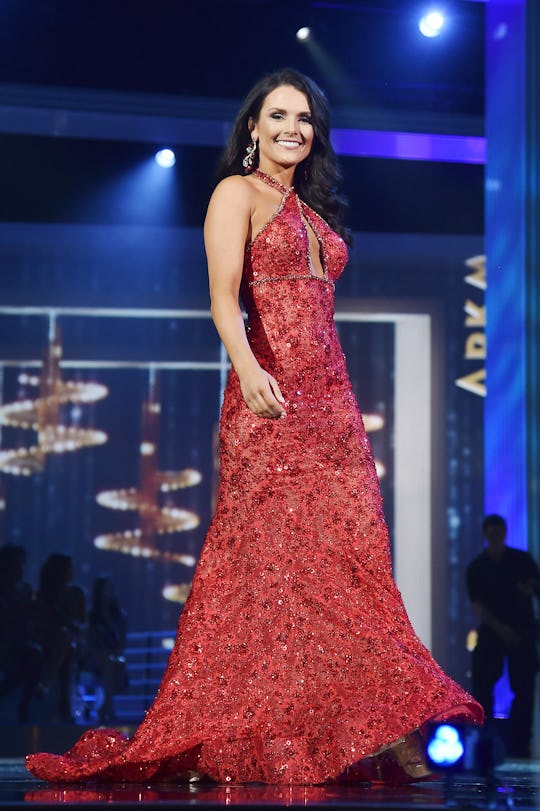 Michael Loccisano/Getty Images Entertainment/Getty Images
Miss Washington's Colin Kaepernick Answer Was The Highlight Of The Miss America Pageant
In 20 seconds, Miss America contestants have to come up with a thoughtful, intelligent response to tough social and political questions. The question portion of the Miss America pageant on Sunday night was full of difficult political examinations, but the toughest of the night definitely went to Alicia Cooper — a.k.a Miss Washington — when she was asked whether she stood with or against 49ers quarterback Colin Kaepernick refusing to stand for the national anthem as a form of protest against police brutality. Here's why Miss Washington's Colin Kaepernick answer was the highlight of last night's Miss America pageant, even if it was imperfect.
Kaepernick first refused to stand for the national anthem during preseason football games. Kaepernick has received both support and criticism for remaining seated during the anthem, and he continues to protest now that the season has started. His actions have spurred a national debate over whether it is disrespectful to not stand during the national anthem.
Miss Washington showed her respect for Kaepernick's protest, as well as for the Black Lives Matter movement, in her answer (although she's since rightfully been criticized for saying that "all lives matter" as well):
The first thing I want to say is we need to focus on how important the Black Lives Matter issue is, [and how] all lives matter in this situation. I don't necessarily support the fact that he sat out, but I do respect that he took a knee and that people are joining in. Because we need to focus on the resolution to this problem, and we need to come together as a nation to have everyone feel equal in our society.
Many fans respected Miss Washington's response, and the live audience applauded her. Some even felt Miss Washington should have won the pageant because of the way she handled her question. The winner, Miss Arkansas, was crowned during Sunday night's show in New Jersey. Miss Washington came in third place.
However, as noted, Miss Washington also received some criticism for her answer because of her use of the phrase "All Lives Matter."
Some people, particularly those who support the Black Lives Matter movement, believe the phrase "All Lives Matter" removes focus away from black people's experiences with the criminal justice system. In an interview with The New York Times, Judith Butler, a professor of comparative literature at the University of California, Berkeley, said that the phrase "all lives matter" does not "immediately mark or enable black lives only because they have not been fully recognized as having lives that matter."
This year's pageant was memorable for more than just Miss Washington's moment in the spotlight, but also for featuring the first openly gay Miss America contestant, Erin O'Flaherty, who is Miss Missouri. Miss Washington's answer may not have been perfect, but it was an improvement on what we've come to expect from lightning speed pageant answers, and for that, we can applaud her.