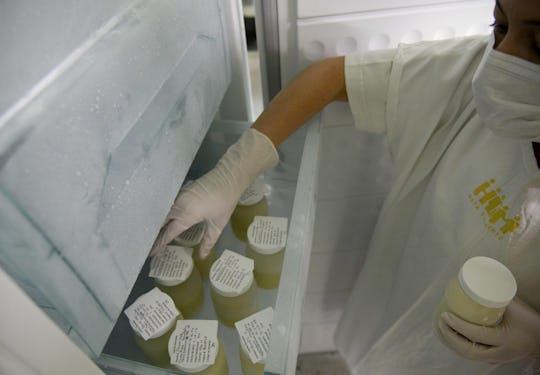 RAUL ARBOLEDA/AFP/Getty Images
Mom Donates Breast Milk In Honor Of Her Son & Gives Everyone Way Too Many Emotions
It is something no mother ever wants to think about: losing her baby. Even typing those letters, now that I am far away from my baby years and my sons are tall and strong, I get chills. Because there is simply nothing worse. The sort of intestinal fortitude someone would need to withstand that sort of shattering loss... the mind boggles. What would you even do? Some of us might fall apart completely, but not Demi Frandsen. This Nebraska mom donated her breast milk to honor her baby boy, to honor the incredibly brief time she had with him on earth. She made a choice, and she chose to give life.
Frandsen's baby boy Leo was born two months premature. He spent the next eight months of his short life in the NICU at the Children's Hospital and Medical Center in Omaha. Frandsen told media outlet WOWT, "Leo was born 2 months early and he was diagnosed with gastroschisis. There was no skin to pull over his exposed organs. It was kind of a new case they had not seen before."
Leo's life was captured not in days or months but in moments; when he was able to go outside with big brother Sawyer in tow, the first time he was able to sign the word "Mom." But Leo packed a lot of love into a short time. As his brave mom told WOWT; "We're still trying to figure out how to have a life without such a big part of it...a little piece of our soul.
One way this brave mom bonded with her son throughout his ordeal was to breast feed him. While Leo couldn't handle much breast milk, "With a q-tip we'd put it in my milk and we'd swab his mouth," she said. So what did she do with the extra breast milk? Every three hours, Demi Frandsen woke up to pump. In the end, donated the pumped breast milk, which in the end amounted to a staggering 131 gallons. "My final donation was 17,503 ounces... which is 131 gallons," she said." So, a dairy aisle, basically."
Her donation to the Children's Milk Depot was the largest they had ever received. Tammy Martin, a lactation consultant who works at the Children's Milk Depot, explained that after the milk is sterilized and pasteurized, it frequently gets donated back to the NICU:
For our babies that are very small, for our sickest, tiniest babies whose mothers can't provide the milk they need. We talk about all the good, positive qualities of breast milk that formula doesn't have and our smallest babies need those antibodies, those protective factors and growth factors.
Trying to keep this tiny babies healthy was the goal that kept pressing Frandsen to donate more. That, and the memory of her little boy Leo, who died on October 22. She told WOWT; "He was worth it. He was worth all of this. His life in 10 months was the best 10 months of mine."