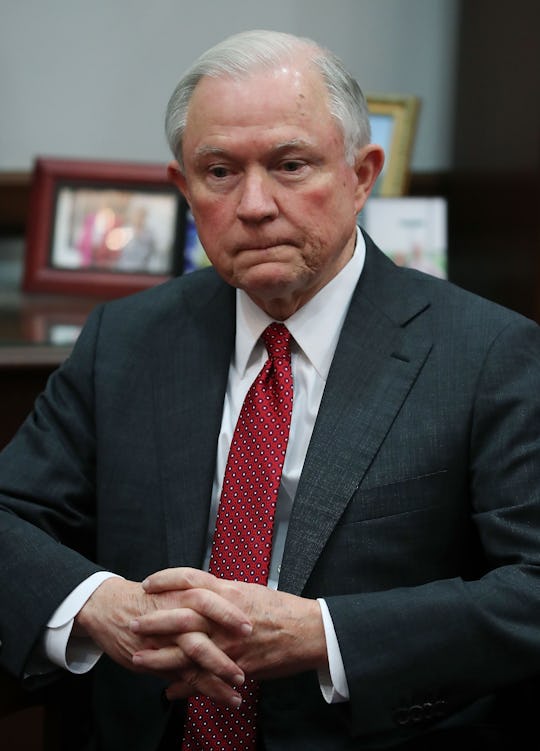 Mark Wilson/Getty Images News/Getty Images
NAACP Stages Sit-in At Jeff Sessions' Office
Donald Trump has put forward so many worrisome Cabinet picks that, in thinking about how to protest them all, it's easy for liberal objectors to feel overwhelmed. But in an inspiring example of civil disobedience, the NAACP staged a sit-in at Jeff Sessions' office in Mobile, Alabama on Tuesday, vowing to stay until Sessions "withdraws as [Attorney General] nominee or [they're] arrested." Sessions, the junior senator from Alabama, is among the most controversial of Trump's nominations for multiple reasons, perhaps most notably because he was denied a federal judgeship back in the 1980s after accusations of racism.
The sit-in began on Tuesday morning, and included multiple high-ranking members of the National Association for the Advancement of Colored People (NAACP), like NAACP President Cornell William Brooks and the president of the Alabama chapter, Benard Simelton.
In a news release, Brooks expressed his concerns about the Republican senator, saying,
Senator Sessions has callously ignored the reality of voter suppression but zealously prosecuted innocent civil rights leaders on trumped-up charges of voter fraud. As an opponent of the vote, he can't be trusted to be the chief law enforcement officer for voting rights.
Brooks also tweeted on Tuesday early afternoon about the protestors's intentions, along with a picture of the resolute, suit-clad group.
Sessions was only the second nominee in 50 years to be denied a federal judgeship back in 1986, after allegations that he had made multiple racist remarks, including reportedly calling an African-American prosecutor "boy" (which Sessions denied, according to CNN) and saying that he thought that KKK members were fine, "until I learned they smoked marijuana." He also allegedly called the NAACP "un-American," and said the Voting Rights Act was "intrusive." (Sessions did not respond to Romper's request for comment, although he vehemently denied the accusations of racism at the time.)
And he allegedly went beyond words. He was accused of allegedly suppressing African-American votes in Alabama when he prosecuted three black civil rights activists for voter fraud while serving as U.S. Attorney for the Southern District of Alabama. The civil rights activists were mailing absentee ballots for elderly voters.
The NAACP's protest of Sessions drew news media and social media attention on Tuesday, with many tweeting their support of the protestors:
Although the sit-in looked destined not to last overnight, with the police arriving in the evening and arrest seeming imminent, let's hope that this protest continues to draw attention to the very real problems with Sessions' nomination.