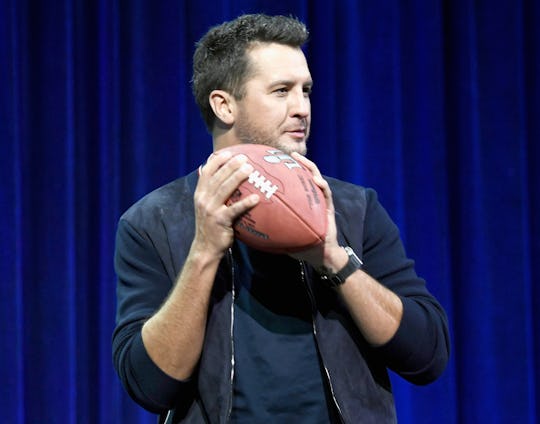 Frazer Harrison/Getty Images Entertainment/Getty Images
National Anthem Reactions From The Super Bowl
To kick off the Super Bowl LI in Houston on Sunday, Luke Bryan performed "the Star Spangled Banner," with millions of people tuning in across the United States for the show. Singing the national anthem while the world watches is always a bit of a risky move, and in the past, plenty of singers have flubbed the lyrics, sung out of tune, and given the anthem some rather interesting twists, for lack of a better word. The national anthem reactions from the Super Bowl from the crowd on Sunday, however, proved that many loved his version — while others just wanted it to speed up a tad.
It was a new venue for the country star, but he's far from unfamiliar with large crowds. Bryan has won the Academy of Country Music and Country Music Association's Entertainer of the Year award twice, and he hosted the CMAs four times in a row. The Kill the Lights star also has quite the following, having sold more than eight million albums throughout his career, which launched nearly a decade ago with the release of his debut album, I'll Stay Me.
Bryan announced his performance at the Super Bowl on both FOX and Twitter, telling fans, "Hey guys, it's Luke Bryan here. And I'm so excited to announce I will be performing the national anthem at Super Bowl LI live from NRG Stadium in Houston, Texas, right here on Fox, Sunday, Feb. 5."
After his performance, both country music fans and those decidedly less country-inclined chimed in on social media to react to his performance, and the reactions ranged from delight to surprise to less-than-impressed. Many were simply surprised by how long it took Bryan to sing the anthem.
Bryan's show set off the energy for the Super Bowl LI, in which the New England Patriots faced off against the Atlanta Falcons. The other act that helped kick off the event included a rendition of "America the Beautiful" by the Schuyler sisters from Hamilton (including Renée Elise Goldsberry, Jasmine Cephas Jones, and Phillipa Soo). For the rest of the evening, viewers can expect impressive commercials, a Lady Gaga halftime show, and plenty of football commentary.
Overall, most people seemed to agree Bryan was a safe (albeit country-esque) choice for the national anthem performance — and luckily for him, it seems like he won't go down in history for messing up the lyrics or slipping on his way up to the stage, either. (Personally, if I were performing in front of an audience that big, that's really all I would hope for.)