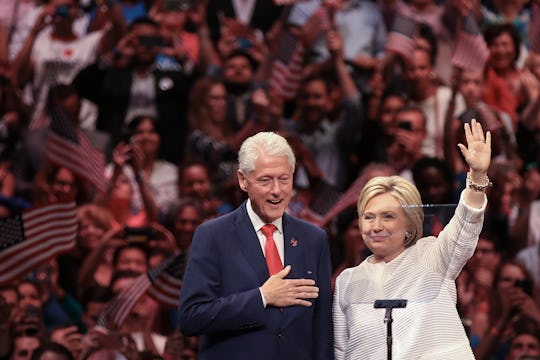 Drew Angerer/Getty Images News/Getty Images
Newspaper Covers From Hillary Clinton's Nomination Got One Huge Thing Wrong
Hillary Clinton fan or not, most people would acknowledge that Tuesday was her Day. Clinton became the first woman in America's 240-year history to ever (EVER) become the official Democratic presidential nominee. The Democratic National Convention in Philadelphia saw a night of celebration and unity, a night to pause and take a break from the headlines to breathe in a greater truth: a woman had finally broken through to the top. And how did some newspapers decide to celebrate such a momentous occasion for women? Well, the newspaper covers from Clinton's election got one huge thing wrong.
The picture on the cover at The Houston Chronicle, for example, was not of a victorious Hillary Clinton. Nope, it was a shot of her husband, former President of the United States Bill Clinton. Huh? Is that what you're saying right now, huh? Because I certainly did a double take. I was still on a fabulous Girl Power high from the DNC on Tuesday night, still reeling from all of the powerful women unapologetically playing their fabulous "woman cards" as they came together to honor not just Clinton herself, but the progress she has now made for women everywhere. The Houston Chronicle clearly agreed that the news was important enough to share on its front page... with a picture of Hillary Rodham Clinton's husband instead of the woman herself.
The Houston Chronicle wasn't the only publication to use a picture of Bill Clinton rather than the actual woman who made history, his wife Hillary Clinton. As pointed out by Kelsey McKinney of Fusion, several publications took note of Clinton's historic moment with a big picture of her smiling husband.
Sure, Bill Clinton did speak at the DNC on Tuesday, so pictures of him would have been plentiful. And sure, Clinton herself was not actually in attendance at the event. So you can imagine how difficult it would have been to dredge up a photo or two of one of the most famous women in America. How would anyone have been able to find a photo of her? Oh look; there she is!
Or a photo of the thousands of women in attendance celebrating, or the women on stage?
Clearly, the only viable photo from the evening was one of Bill Clinton.
But here is the problem with using his image instead of hers: it changes the conversation. It subtly transforms the formidable woman from who she is in politics, a force to be reckoned with (a former U.S. Secretary of State, a staunch activist for women's rights, and a former New York Senator) to being primarily identified as "wife of." And nope, that's just not OK.
Hillary Rodham Clinton has been showing up for work for four decades. Like her or not, she has (as Meryl Streep said at the DNC) "grit and grace." She is now officially closer to becoming President of the United States than any other woman in history.
I think she might have earned a stock photo on the cover of a few newspapers, y'all.